Triple Eight surprise Lowndes with special livery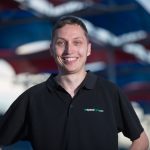 Triple Eight has surprised Craig Lowndes with a special livery for his final full-time Supercars outing at this weekend's Coates Hire Newcastle 500.
The team has unveiled an eye-catching golden colour scheme from Lowndes' glittering Supercars career to mark what will be an emotional round for the fan favourite.
Lowndes was unaware of the team's plans for his #888 car and was shocked to see the new look when he arrived at the track on Thursday.
The veteran will also wear a set of matching gold and black overalls to commemorate the weekend.
Triple Eight team boss Roland Dane accompanied Lowndes in unveiling the livery which is among host of celebrations around Lowndes' last full-time race.
"I didn't know this was coming. I know there have been some stories and some theories and conversations," said Lowndes.
"I know Lara, my wife, has been disappearing and taking phone calls all over the pace.
"When I got given the suit even just about half an hour ago I thought this was something special, but to see the car getting pushed out I thought that there's something going on.
"It's fantastic. There's a lot of history in the sort of design work of the car and I'm really thankful that the team were able to do it."
Aside from the chrome gold finish the car has reverted to its usual Autobarn branding, and carries the #ThanksCL hashtag on the splitter and flanks.
The design also shares cues from Lowndes' first Triple Eight car, resembling the blue and yellow Betta Electrical design he carried in 2005.
"That's when it all started for me with Triple Eight," added Lowndes.
"Roland, every now and then he gets emotional.
"To see his emotion revealing the car really did show the passion he has for the sport and for me to be very thankful for the career that I've had with the team."
On Sunday the teams and drivers are expected to form a guard of honour in pit lane before the Triple Eight driver leads the field to the grid for his final race. 
Lowndes is also set to be presented with a mosaic of fan photos, submitted to Supercars' Facebook page, accompanied with the hashtag #ThanksCL.
"Supercars have been doing the hashtag ThanksCL for a number of weeks now, and to see the media sort of take momentum, I think it's been fantastic," he said.
"Now to see it on the car it's really special. It's something I'll carry with pride over the course of the weekend.
"No doubt it'll be interesting to see what the fans think. I think it looks fantastic."
While the round will be the 44-year-old's last as a full-time driver, Lowndes will remain in sport as a co-driver for Triple Eight alongside a television role with Fox Sports.