TCR Australia to cap grid to 20 cars for 2019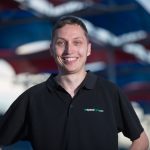 TCR Australia has expanded on regulations for its inaugural season which include a move to initially limit the grid size to 20 cars.
The new two-litre production touring car class is gearing up for its debut year with organisers revealing further details to prospective competitors during its official launch at Sydney Motorsport Park.
Promoter Australian Racing Group (ARG) has confirmed that the grid will be limited to 20 cars next year with no more than five cars from each manufacturer.
It is understood the decision has been made with a view to ensure variety on the grid.
TCR cars run to strict Balance of Performance rules to maintain parity among the 13 models that have been homologated for the category.
ARG says it will investigate expanding the grid size in 2020. 
"We want it to be viable, professional, and competitive," said ARG director Matt Braid. 
"So, 20 is where we think is the safe number to start off because it's the first year.
"We'd love to expand that and obviously will expand that both from the brand representation and total entry point of view in 2020.
"Where to beyond that, I'm not really sure at this stage. It's a wait and see on how far we could go without affecting the professionalism, the presentation, and the competitiveness of the category.
"There is some nervousness and some naivety around the series (from manufacturers) with how it works," explained category manager Braid.
"From a public point of view, from a commercial point of view, and from a manufacturer point of view we don't want to see one brand skewed too much in the first year.
"The beauty of the series is that there's 13 brands which you can run in Australia. Realistically, we think most people are only going to run brands that are represented here (as manufacturers or importers), so that's 10.
"Five, we think, is a fair number (for each brand). There's still scope to run numerous brands, numerous cars of one brand, without it being (visually) dominating."
TCR Australia has confirmed it will run a sprint race format with three heats across the weekend with a single qualifying session determining the grid for Race 1.
A progressive grid system will be used for the remaining races. 
Braid says there is scope to run endurance races from 2020 onwards.
"We're blessed with some great tracks here and obviously fans love the endurance race formats so we're looking at it now," added Braid.
"For us, the real priority is getting the sprint series up next year and if all that's running okay we'll look at endurance race might be for 2020 onwards.
It has also been confirmed that the series will avoid DSG gearbox cars which have been prevalent in other TCR championships and have provided a performance disadvantage. 
The first official entries and driver announcements are expected in the coming weeks.
TCR Australia will hosts its inaugural round at Sydney Motorsport Park from May 17-19.