Flörsch awaiting clearance to travel after surgery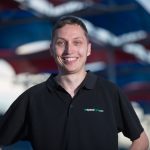 Sophia Flörsch is expected to remain in Macau for a 'few more days' until she is transportable following an 11 hour operation on injuries sustained in a horror Formula 3 crash.
The teenager escaped a frightening shunt that saw her Van Amersfoort F3 car launched in the air at high speed before bursting through catch fencing and landing in a marshal and photographers area. 
Five people, including Flörsch, two photographers, a marshal and fellow driver Sho Tsuboi, were all taken to hospital. 
Flörsch suffered a spinal fracture which has been successfully operated on with the driver now awaiting clearance to return home.
The Van Amersfoort driver released a statement on social media where she thanked doctors, event staff and fans in the aftermath of the crash and confirmed a desire to return to racing.  
"I survived the operation which took 11 hours well. Hope from now on it only gets better," read the post on Facebook.
"I have to stay a few more days in Macau until I'm transportable. 
"I want to thank all of my fans for every single get-well wishes, which I now start reading. 
"This really motivates me and gives me courage. My thoughts are also with everyone who was involved in the accident. 
"I hope everybody is healthy. At the accident were really nice people, which I still have in my mind. Thank you for all the encouraging, calming words in these tough minutes in my car. 
"A real big thanks to the medical staff here in Macau for the friendly and professional treatment. 
"A huge thank you to the local @FIA rescue-team, Mercedes-AMG Petronas Motorsport, HWA AG, the FIA organisation and their medical team in the background and the Macau Organisation, who support me in the best way. 
"Also a special thanks to Dr. Riccardo Ceccarelli and last but not least my Team Van Amersfoort Racing, Facu and Ferdinand, who all suffer with me – you are phenomenal.
"I'm going to come back! btw (by the way) Dallara built a very good chassis."