Supercars clarifies team orders rule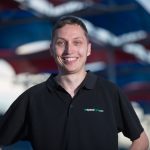 Supercars has moved to clarify the team orders rule following Triple Eight's controversial position swap at the ITM Auckland SuperSprint.
Team orders were thrust into the spotlight during Race 29 when Jamie Whincup dramatically slowed on the final lap to hand second place to team-mate Shane van Gisbergen helping the Kiwi to gain crucial championship points in the title race.
At the time the incident Triple Eight team manager Mark Dutton denied suggestions the squad had used team orders stating that Whincup was forced to back off due to concerns the seven-time champion would run out of fuel.
The team was particularly coy when the subject of team orders was mentioned on the Fox Sports telecast during the race.
It sparked much ire among the paddock with Erebus Motorsport among teams adamant that Triple Eight had breached team orders regulations, which technically prohibits the practice to some extent.
While some operations were aggrieved, Scott McLaughlin was unperturbed by the situation in Race 29.
The ruling currently states; 
"D24.1 Team Orders
"24.1.1 Means an instruction to a Driver or Team member, either verbal or otherwise the effect of which may interfere with a race result.
"24.1.2 It is not permitted for any sponsor, supplier, entity or related entity, including an Automobile manufacturer, importer or their representative to impose or seek to impose Team orders, on any Team."
However, Speedcafe.com has since sought clarification which has resulted in the championship confirming that the rules were amended prior to the start of the season.
The wording of last year's 24.1.2 rule included the word 'team' among the parties that are restricted from giving team orders.
As a result, Triple Eight's actions at Pukekohe were not in breach of regulations with Supercars confirming that "these parties (in Rule 24.1.2) do not include Teams or Drivers giving or receiving instructions within their own Teams."
The ruling was originally constructed to stop teams ganging up on each other which was particularly prevalent during the peak of the Ford and Holden rivalry.    
Team orders could arise at next weekend's Coates Hire Newcastle 500 with the championship on the line between van Gisbergen and DJR Team Penske's Scott McLaughlin.
McLaughlin has a 14 point lead over van Gisbergen with the title protagonists' team-mates expected to assist in the championship fight.