S5000 set for demo laps at Newcastle 500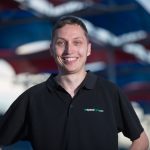 The all-new S5000 single seater will make its public debut with a demonstration run planned during next weekend's Coates Hire Newcastle 500.
Supercars legend turned Fox Motorsport commentator Greg Murphy and two-time Bathurst 1000 winner John Bowe will jump behind the wheel of the car for demonstration laps at the tricky Newcastle East Street Circuit.
The much anticipated public debut of the S5000, a modern incarnation of Formula 5000, arrives ahead of its inaugural season next year.
Powered by a five litre, 560hp V8 Ford Coyote 'Aluminator' engine, the all-new Onroak-Ligier chassis is set to be Australia's fastest single seater. 
The S5000 chassis features the latest FIA-specification carbon-fibre monocoque with strength, safety and cost-effectiveness the main priorities.
It also features the halo protective device, making it the first Australian racing class that will feature the FIA-mandated safety device.
Murphy, who won the 1994 New Zealand Grand Prix in a Reynard 90D, is set to log the first laps in the car on Friday.
Bowe will take over the running of the S5000 on the Saturday and Sunday.    
"To be one of the first people to drive the S5000 car is really special," said Bowe, who won two Australian Drivers' Championships in Ralt single seaters in the 1980s.
"These will only be demonstration laps, but it is really going to give the Newcastle fans a real treat. Big, loud, modern race cars around a spectacular track.
"I grew up in open wheelers, I love them, and the introduction of this category is the best piece of open wheel news in Australia since Formula Atlantic was here in 1981.
"With the new carbon-fibre monocoque, big engine and the cockpit 'Halo', it will be an awesome class. The aero will be good but not over the top, and the cars will be quick.
"If we're ever going to have a chance to breed a race-ready Formula 1 driver in Australia, this will be the car and the category."
Newcastle 500 event director Kurt Sakzewski added: "The S5000 will be a great spectacle for fans as a fantastic addition to the weekend's entertainment."
"This is the first time the Newcastle circuit has hosted an open wheel racer. We are really looking forward to seeing the S5000 in action and how it fares on the tough street layout."
S5000 is set to unveil its maiden calendar next week prior to the Newcastle 500.
Organisers have tabled the possibility of running a Tasman style series with events in both Australia and New Zealand.  
Following its outing at Newcastle, the car will conduct demo laps at the Adelaide Motorsport Festival from December 1-2.