Waters already excited by Mustang potential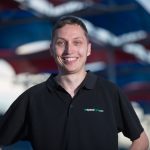 Testing of the Ford Mustang Supercar has Cameron Waters itching for the 2019 season to begin in anticipation of a much more competitive package.
Ford's latest Supercar offering broke cover last week which has seen excitement levels at Blue Oval teams DJR Team Penske, Tickford Racing and Milwaukee Racing rise.
Developed in conjunction with Ford Performance in the US, DJRTP and Tickford, the car is hoped to offer an improvement on the ageing Falcon FGX it replaces.
After a difficult campaign this season which has highlighted deficiencies with the current package, Waters cannot wait for a new piece of kit for 2019.     
The Monster Energy backed driver, who has finished no better than fifth this year, is not expected to sample the Mustang until pre-season testing next year.  
"I think every model change you're only going to make it better," Waters told Speedcafe.com.
"Obviously the Falcon was a good thing, and served us well but it got out-dated when the ZB Commodore came along. 
"So to be able to be as good or if not better than that next year, I think makes me pretty excited because we're kind of competitive at the moment, and we're getting better and better so it makes it really exciting to see what next year could potentially hold.
"I've been pretty excited about racing this car since it got announced, and to see it on track now it's probably raised that excitement level a little bit more and the Falcon has served us well but we need a newer upgrade to be a bit more competitive.
"I guess that it just makes me a bit more pumped for next year. Like I said, it's cool to get a newer upgrade. It's such an iconic car, I think it'll look pretty cool in the race livery. 
"It makes me a little bit more pumped for next year."
Following outings at Queensland Raceway and Phillip Island, the Mustang will continue its development program this week with a series of straight-line aero tests planned at an undisclosed location in New South Wales.
Next month will see the car undertake Supercars' official homologation tests which will see the model matched against Holden ZB Commodore and Nissan Altima Supercars.