Mustang runners respond to social media backlash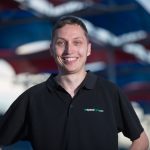 Fans should wait before they cast judgement on the look of the Ford Mustang Supercar, according to Cameron Waters and 23Red Racing following a mixed reaction to the car's reveal.
Mustang homologation team DJR Team Penske took the covers off Ford's highly anticipated new Supercar weapon ahead of its first on track test at Queensland Raceway yesterday.
The prototype car, developed by DJRTP, Ford Performance in the US and Tickford Racing, is the first two door coupe Supercar to join the category under the Gen2 regulations.
Its launch has divided opinion among fans with hundreds of comments being posted on social media.
THE FINAL RACE OF THE 2023 REPCO SUPERCARS CHAMPIONSHIP ON ONE OF THE WORLD'S BEST STREET CIRCUITS. GO ALL IN AT THE VAILO ADELAIDE 500, CLICK HERE TO BUY TICKETS
As previously reported, the Mustang has been designed to fit over the current Supercars chassis which has resulted in some changes compared to the popular road car and GT4 race version.   
Launched in blue camouflage livery to hide the car's finer details, key design features were highlighted by fans including its bulging roof, huge rear wing and low nose.
Tickford Racing driver Waters, who will race a Mustang next year, has acknowledged the mixed review from fans, but believes it is too early to make a call on the car's looks.
He expects opinions will change when the car is presented in a proper livery following its final trim after homologation testing is completed next month.
"There has been a mixed reaction from the fans," Waters told Speedcafe.com.
"The car as a whole has had to fit over the chassis and it has to be worked around the aero stuff to make sure it is fast.
"For me the on track photos, the car looks really cool. I don't think the livery did it justice. I think the car looks pretty cool and really good on track I'm pretty keen to see a proper livery on the car.
"It is only the first time it has hit the track and a few things can still change on the car obviously.
"The camo livery on it makes it not look as good as it will. It looks like it will be a quick race car and I'm pretty pumped to be racing it next year."
The view was echoed by 23Red Racing team owner Phil Munday with his team to field one of six Mustangs next year.
He expects fans to change their tune next year when the car hits race tracks in 2019.
"Once you start making comments on things that you don't have a full understanding of is a bit dangerous I guess," Munday told Speedcafe.com.
"I look at these things and say wait and see what happens next year."
Speedcafe.com has canvassed a cross section of the reaction from fans to the car's reveal below.
Testing of the Mustang is expected to continue at Phillip Island on Saturday following a successful maiden test that saw Scott McLaughlin and Fabian Coulthard log laps at Queensland Raceway.   
It just looks wrong pic.twitter.com/uVqrzYXbFW

— Adam Bonsall (@bonners1974) November 7, 2018
Or this by MARC cars (Australian made). @marccarsaus

Re the Supercar, I feel sorry for the engineers who've worked tirelessly to create it. No doubt a quick race car, but the rules have not allowed a pretty, or visually relevant outcome. pic.twitter.com/ZRsQrv9dCr

— Damien White (@_damien_white_) November 7, 2018
Front and back look mean as, side profile looks like a Volkswagen

— Leethl 🤘 (@AllinghamLee) November 7, 2018
Oh wow! That looks awesome – great job!!

— Mark Genders (@Mark_Genders) November 7, 2018
Great looking car. Driver change in the endurance season might be hard if that bar across the door is as difficult as it looks.

— Phil Caldwell (@phillyc77) November 7, 2018
Wow!
That Mustang looks amazing!

— Omaris Bhumiriady (@bhumiriady) November 7, 2018
Messages from fans on Speedcafe.com Facebook page
Jordan Sander: WAU take note. You can't fit a square peg in a round hole. Time for a new chassis that suits 2 door coupes. Tes change is expensive Supercars, but so is no fan base.
Robert Conochie: Proportions look all wrong. The Marc ii v8 mustang looks better
Tim Walker: Mmmmm to those that said the zb supercar was ugly (which is tis) surely this is even uglier.
Simon Williamson: Whoa, worst mustang race car currently racing anywhere….
Craig Thomas: From the A Pillar back it looks identical to the ZB. The only difference is the tail lights and the rear wing end place. Since car of the future it looks like teams have started taking advantage of the aero wash to disadvantage the following car. (Like they do in F1) Let's hope it doesn't ruin the racing Like it has in F1
Shane Pittendreigh: Cool car. Needs a roof chop but I like it 😀
Jai Ross: So many haters…long as it performs well… I am sure if will change a bit once it's put up against the other brands. Got to give it a chance… I am sure DJRTP know what they are doing!
Pete Linke: Why do so few understand that they had to cut and shape the Mustang body to fit the control chassis? Dr Ryan Story said a few yrs ago (long before it was ever expected they'd be permitted to run the Mustang) that the Mustang had the aero of a house brick, hence the huge rear spoiler etc! Just be thankful they'll be on the grid next year instead of nitpicking!
Michael Hunter: I dont mind it yes its wider than a road Mustang and the hight is not the same but its a Ford and at least us Ford fans can say we have a Ford on the grid next year not like Holden with there Opel Insignias. And people saying it looks kinda funny looking and all its ment to thats the whole point of the camouflage to hide whats underneath just wait till they have the Shell V Power Racing and TickFord Racing paint work on them they will look tuff as guts. Im just waiting to here that Roland and his army of sooks start complaining like they have with almost every Ford to date because his team cant win on a fair field. Ford and Holden (Opel) are given there specs for there cars almost every model Ford has had Roland has had a cry over because the Falcons were much faster in a straight line and we have had to clip rear wings shorten our front splitter on one occasion the Holden gained 200hp over the Falcon all because the sooks at Holden couldnt put together a better package than what Ford did and i have a felling it will happen again with the Mustang Roland will have a sook about the rear wing being so big and creating down force that it will have to be changed.