Holdsworth hopeful of 2019 seat amid tough driver market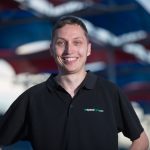 Lee Holdsworth remains hopeful of retaining a place on the grid next year but admits the Supercars driver market is becoming increasingly harder and reliant on sponsorship.
The three-time Supercars race winner is among a group of drivers facing an uncertain future with only a handful of drives yet to be secured for 2019.
Holdsworth declared himself on the market in October with the 35-year-old now expected to be replaced at Preston Hire Racing by Mark Winterbottom, who confirmed his exit from Tickford Racing last week. 
Outside of his current employers, there appears to be only five seats to be confirmed for next season.
Tekno Autosports is yet to announce its plans with current driver Jack Le Brocq linked to a potential move away from the team.  
Tim Blanchard Racing is looking for a new driver following Tim Blanchard's decision to step back from racing full-time and has been linked to Super2 driver Macauley Jones.
Meanwhile, Michael Caruso is out of contract at Nissan Motorsport (Kelly Racing) with team-mate Andre Heimgartner also not certain to stay with the team.
Tickford Racing is also yet to confirm its future with doubts around the tenure of Richie Stananway emerging despite being contracted for next year.
Holdsworth, who has endured a difficult 2018 season, says he remains confident that something will come together, but says the market is increasingly relying on drivers bringing sponsorship to teams.
"Obviously my focus is a full-time ride for 2019," Holdsworth told Speedcafe.com.
"I'd like for something to happen quickly. I've got the feelers out there and I feel like I'm in an okay position at the moment.
"I feel that something will come together but you can't ever be 100 percent sure.
"There's still a few seats to be with no drivers signed yet so until all those options are closed I'll be pursuing everything that's out there and hopefully putting myself in the best seat that's available.
"Sponsorship is hard at the moment for teams and obviously if drivers can help on that side of things with the sponsorship then that would help I think. 
"There are probably a couple of teams after a bit of sponsorship but there's a lot of drivers down this pit lane that are doing something for the team one way or another.
"But that's just the way that motorsport is at the moment unfortunately, it's not like when I first joined. I would hate to be starting my career now, put it that way."
Should Holdsworth's search for a full-time drive for next season prove unsuccessful a career as a co-driver beckons.
"I think it's pretty unrealistic to expect to come back after a year out," he added.
"The sport is hard enough to stay in as it is. 
"You need to be in a good car obviously, in a good team to show your skills.  
"I think taking a year out, if I went down the endurance path I would probably put a bit more focus on that rather than focusing on getting back in. 
"Especially where I am in my career. Although I feel I'm driving the best I ever have, once the full-time opportunities run out I'll be focusing on other things. 
"Focusing on making another career of something."
Holdsworth is set to contest his final race for Preston Hire Racing at the Coates Hire Newcastle 500 from November 23-25.