Twilight races a possibility for 2019 Auckland SuperSprint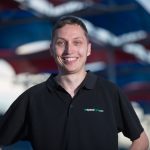 Twilight races could be introduced to the ITM Auckland SuperSprint in 2019 as Supercars assesses its format options for its annual trip to New Zealand.
Next season will see the event occupy a new slot in the championship calendar with the trip across the Tasman moving from November to September.
A decision to shift from air to sea freight to transport cars and equipment to New Zealand has forced the event to move to allow for a longer timeframe prior to and after the meeting for shipments to reach their destinations.
Moving the ITM Auckland SuperSprint to September also sees the race avoid the Rugby World Cup final which is scheduled for November 2.
While happy with its current SuperSprint format, Supercars is investigating the possibility of running twilight races given the event will be held prior to daylight savings kicking in, which could add pressure to scheduling.
The championship is due to discuss the twilight concept and the prospect of racing under floodlights with Pukekohe owners Counties Racing Club (CRC).
Twilight races were held at the inaugural Australian Grand Prix championship round in March this year.
A final decision on formats is expected to be made prior to the Coates Hire Newcastle 500 season finale later this month.
This year the Auckland SuperSprint ran two 70 lap races.
"We're looking to next year, obviously we will be running pre-daylight savings," Supercars CEO Sean Seamer told Speedcafe.com.
"We'll have a conversation around maybe twilight, but fundamentally, the format, we're happy with it.
"We will need to speak some more with CRC (Counties Racing Club) and the lighting people over here, but we'll see what we can do and go from there.
"We'll make final decisions on formats at the next Commission meeting just before Newcastle."
Concerns regarding the weather in September were raised when Supercars released its 2019 schedule, but Seamer is unconcerned about the weather window the event will adopt next year.
"If you look at days of rain, and millimetres of rain, September, October or November are pretty much the same, actually October is a little bit worse, so from a weather point of view you never know what's going to happen in New Zealand," Seamer added.
"You could be here in January and you get the tail end of those tropical cyclones that come down, so from a window point of view, September, October, November are largely the same."
This year's ITM Auckland SuperSprint was deemed a success with a bumper 110,000 fans cramming into the venue over the three days.