Mustang Supercar completes successful first outing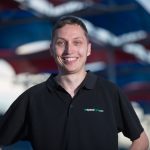 The new Ford Mustang Supercar has successfully completed its first on track running at Queensland Raceway. 
DJR Team Penske showcased the first prototype Mustang at the Ipswich circuit that has been developed in conjunction with Ford Performance in the US and fellow Ford Supercars squad Tickford Racing.
Ford's latest Supercars weapon was driven on track behind closed doors for the first time by Scott McLaughlin before he handed the car over to team-mate Fabian Coulthard.     
The team ran through a series of tests to prepare it for Supercars' stringent VCAT homologation testing program next month. 
DJR Team Penske managing director Ryan Story was pleased with the Mustang's first on track showing. 
"To see Mustang on track for the first time is a great milestone, as we've been working on this project in earnest since November last year. It is a testament to everyone involved," said Story. 
"It's an encouraging start. The car looks fantastic, and both drivers reported that the car has plenty of promise. We couldn't be more pleased with how things progressed today."
McLaughlin was impressed with the feel of the Mustang claiming the car's balance is already pretty close to his current package after one test.
"First of all, the car looks awesome. It's going to be so good to see it in Shell V-Power colours next year," said McLaughlin.
"It's a great start. It did everything we could expect of a brand-new race car, and the balance feels pretty close to our current package. Having now driven it, I'm massively excited for the 2019 season to begin." 
Team-mate Coulthard, who also spent time behind the wheel, added: "It doesn't get much more iconic than a Ford Mustang, so to be a part of the team that's bringing this car back into Supercars and Australian touring car racing is pretty special." 
The maiden test was overseen by Ford Performance aerodynamics lead Sriram Pakkam, who joined the testing team from the United States. 
"It's always a special moment when a project such as this one finally comes to fruition and rolls out onto the racetrack for the first time," said Pakkam.
"This is a significant car for Ford, and this is demonstrated in the resources we've put into the project to ensure that we build the best race car possible, within Supercars' regulations. First signs are positive, and we will continue the testing program over the next few weeks."
The Mustang is expected to be transported to Phillip Island for further testing on Saturday.