Triple Eight defends Whincup/SVG position swap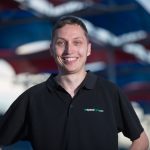 Triple Eight has defended suggestions it used team orders on the final lap of Race 29, claiming that it feared Jamie Whincup would not have reached the finish on fuel.
Whincup had been pushing race leader Scott McLaughlin hard in the final laps before slowing dramatically in the final sector of the last lap after receiving a radio message from the team saying he was low on fuel.
His sudden drop in pace allowed team-mate and championship contender Shane van Gisbergen, who was 10 seconds back, the chance to grab second and more series points.
The switch of positions saw van Gisbergen close the championship lead to McLaughlin down to 14 points.  
While team orders are technically prohibited, excluding instructions from the outfit itself, Triple Eight team manager Mark Dutton is adamant that Whincup's loss of pace was to save fuel to make the finish.
The move resulted in the crowd booing Whincup at the finish while fans took to social media to display their anger over the move
"I wish they were team orders in a way because unfortunately we overreacted," Dutton told Speedcafe.com.
"We were concerned on fuel, we thought we weren't going to make it. 
"So the backing off was something we thought was necessary.
"I'm the man on the fuel loads as well – so some of those stops we probably should have had a better lane time. 
"We need to review and see how other people are so much quicker with the minimum drop than we were. We've made a few mistakes.
"He (Whincup) was well deep into the pot. It's one of those things that we've got to think how deep can we actually go. 
"He definitely was low on fuel, no doubt, hand on heart he was well into the pot. We should have done a better job."
McLaughlin was unperturbed by the late switch of positions admitting he expected the Whincup and van Gisbergen to switch when he saw the former drop back.
A fortnight earlier on the Gold Coast, Shell V-Power Racing had short-filled its #12 FGX Falcon during a pit stop under Safety Car, saving McLaughlin's Car #17 from stacking while compromising Fabian Coulthard's and Tony D'Alberto's hopes of winning the race.
The switch of position on Sunday and the points gained for van Gisbergen could prove crucial with the championship set to be decided at the Coates Hire Newcastle 500 from November 23-25.