SVG avoids post-race penalty, DJRTP lodges protest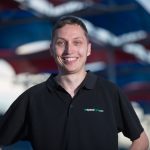 Shane van Gisbergen has avoided a penalty for spinning wheels during a pit stop at the ITM Auckland SuperSprint, although the decision is the subject of a protest from Shell V-Power Racing.
Television cameras caught the rear wheels of the #97 Red Bull Holden spinning as it was lowered to the ground which contravenes Supercars rules with the matter referred to a post-race investigation.
Van Gisbergen won the race after overcoming championship leader Scott McLaughlin (Shell V-Power Racing) and a five second penalty for contact between the pair at the hairpin.
However, it has been determined that the matter does not require referral to the stewards.
A report states that the rear wheels of van Gisbergen's car did not 'complete in excess of one full rotation' which would prompt a penalty.
As a result of the protest being lodged the results from Race 28 remain provisional although Speedcafe.com understands that a hearing will be held tomorrow.
"Following a review of the Broadcast footage from a number of angles and Supercars data from Car #97, it was observed that the rear wheels of Car #97 did not complete in excess of a full revolution," read a stewards report.
"Consistent with previous determinations of the DRD, when investigating if a breach of Rule D11.8.8 has occurred, the rear wheels must complete in excess of one full revolution for the imposition of a penalty to be recommended to the Stewards.
"As this did not occur the matter does not warrant being referred to the Stewards."
The Supercars sporting rules regarding spinning wheels during a pit stops states.
"11.8.8 During any Pit Stop, from the time the Car leaves the ground until it returns to the ground, it is not permitted to have the clutch engaged so as to cause the rear wheels to rotate unless prior approval is given by the S&TD.
"Where the S&TD grants such approval, the wheels must stop rotating prior to the Car being lowered to the ground. For the sake of clarity, the wheels must not be rotating while the Car is being lowered to the ground.
"A slight movement of the rear wheels indicating the engagement of a gear will not, at the sole discretion of the S&TD, constitute the rear wheels rotating."
Reflecting on the incident in the post-race press conference, van Gisbergen felt that a clutch problem contributed to the issue.
The pit stop under review for @redbullholden and @shanevg97 for spinning wheels.#VASC pic.twitter.com/aXx8doO9IA

— Supercars (@supercars) 3 November 2018