Winterbottom has idea of preferred 2019 destination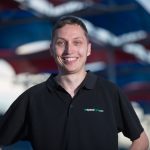 Mark Winterbottom says he has a fair idea of his preferred destination for next season as speculation regarding his future Supercars home intensifies.
The 2015 Supercars champion will be leaving Tickford Racing at the end of the campaign after the Ford squad confirmed his departure last night.
Winterbottom insists that a deal for next season is yet to be reached with several options for 2019 available. 
However, he remains the favourite to fill the vacant seat at single car Holden concern Preston Hire Racing, with Lee Holdsworth already confirming that he is set to leave the team.
Team owner Charlie Schwerkolt offered a firm 'no comment' when quizzed by Speedcafe.com regarding his 2019 plans, which he hopes to be firmed before the Coates Hire Newcastle 500 finale.
The seats at Tekno Autosports and Tim Blanchard Racing, alongside the two drives at Nissan currently occupied by Michael Caruso and Andre Heimgartner, are all yet to be confirmed.
It is however likely that whatever call is made will see Winterbottom switch from Ford which he has been associated with for his entire Supercars career.
The 37-year-old remains tight-lipped on his future but is aware of his favoured outcome.
"In your head you do (know the preferred destination), but until pen is put on paper, nothing's ever confirmed in this sport, and then it gets announced and that's how it goes," said Winterbottom.
"Obviously you want to do that soon and get it out there but you can't announce something you haven't done so that's the hard part about the sport and we'll see. 
"Hopefully soon we can get that pen working and then announce something.
"A change is sometimes good. I'm pretty passionate about what I do, so if you feel like you need to go or whatever it is, and whether that's from myself or the team, then you make that choice. 
"We'll sit down and work it out in the next couple of weeks and hopefully have a deal done by Christmas and then you go into the new year happy. 
"I don't want to drag it on past Christmas because you don't want to end up without a seat, so you want to do it soon."
Winterbottom has, however, revealed that he would be open to a move to a non-Melbourne-based team if the situation arises.
"(It) doesn't matter where it is, really; you can get to Brisbane pretty quickly but it doesn't matter where it is, really; you can base yourself anywhere and make the most of any situation," he added.
"We see drivers live interstate and stuff like that, so it can work."
Amid the news of his impending Tickford departure, Winterbottom finished third fastest in the final Friday practice session at this weekend's ITM Auckland SuperSprint.