Supercars outings planned for The Grand Tour test driver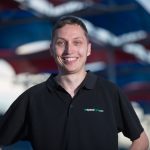 The test driver from hit motoring show The Grand Tour is set to head to Australia for a series of Supercars tests in a bid to secure a Super2 program for 2019.
British racing driver Abbie Eaton is preparing for a trip Down Under having lined up two tests in Supercars machinery including an outing with a main game team.
Eaton is probably best known for her role on Amazon Prime's The Grand Tour, where she test drives hypercars for the show hosted by former Top Gear presenters Jeremy Clarkson, Richard Hammond and James May.
Alongside her television commitments, the 26-year-old has enjoyed success in club and national motorsport in the UK, winning the 2014 Mazda MX5 Super Cup title.
Last year she claimed victory in the Amateur class of the Blancpain Endurance Series at Monza, driving for top Ferrari GT outfit AF Corse.  
Speaking to Speedcafe.com earlier this year, the Silverstone racing instructor revealed intentions to move to Australia to forge a career in Supercars, which has since seen her secure an Australian-based managers Peter Doulman and Jo Gardner, who have lined up tests later this month and in December.
Eaton is unable to divulge the identity of the teams or location for the tests but confirmed the squads operate in Supercars and Super2, with the dates of the outings to be secured next week.
"We've got a couple (of tests) lined up at the moment but we are in talks with a few other teams, the more the merrier basically," Eaton told Speedcafe.com.
"There are some (teams) that are just in the main championship and perhaps some that are venturing into Super2 as well.
"We've been chatting to a few teams and basically others have got wind of (my visit) as well and have approached myself.
"I think there may be some other drivers (at the tests).
"But ultimately for me, I'm just going to be myself and it's about jumping in the car and letting the talking happen on the track really."
In anticipation of the trip, Eaton has been busily preparing for her first outing in a Supercar by cutting laps on a simulator. 
The Brit has also stepped up her fitness regime by incorporating a heat training program to help adjust to the summer heat in Australia.
"I haven't had a busy year with racing, it's (Supercars) been kind of at the forefront of my mind for the full year so I've been doing sim work and (working out in the) gym and acclimatising myself to heat," she said.
"I've been exercising in hot rooms and sitting in saunas for as long as you can and bits and bobs like that.
"That's been ongoing the majority of the year to try and give myself the best shot when I'm out there because ultimately you want to be fast and you want to not fall out the car at the end."
Eaton is under no illusions regarding the scale of the task to secure a drive in Australia and is setting her sights on Super2, which she admits is hugely competitive, and would be a challenge. 
"(The plan) is to try and do Super2 and perhaps the Bathurst 12 Hour," she added. 
"It would be stupid of me to (try and) jump straight in the main series. 
"Super2 is stupidly competitive as well, so it's going to be a difficult first year, it's going to be a steep learning curve but ultimately you aim to drive to your best.
"We'll see how November/December goes and we'll go from there."