Whincup reveals ambitions that led to T8 buy in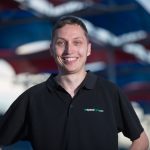 Ambitions of becoming part of Triple Eight's team management and engineering group once his Supercars racing career is over drove Jamie Whincup to buy a stake in the team.
The seven-time Supercars champion announced last week that he has become an equity partner at Triple Eight having purchased a 15 percent share in the multiple championship winning operation.
While contracted to the team until 2019 at least, Whincup is already plotting his future in the sport.
The 35-year-old says his passion for motorsport extends outside of the cockpit which has led to the decision to buy into the team that has helped deliver all seven of his Supercars titles.
Whincup joins team owner Roland Dane and minority shareholders Tim Miles, Paul Dumbrell and Jessica Dane as equity partners at the factory Holden team. 
"I just love racing and I have got a very cool position at the moment to go racing," Whincup told Speedcafe.com.
"I have got ambitions to be part of the engineering group and management group. This is just a stepping stone to that.
"It has been on the mind for a bit. 
"I recognised a couple of years ago that I love racing and love Supercars and I love the Triple Eight organisation. 
"Then it hit me that once I stop driving that may finish. 
"I wanted to put a plan in place and I have got massive interest in team ownership so I've been working with RD (Roland Dane) for last 18 months and we have finally come to an agreement where I become a shareholder and a member of the Triple Eight board.
"I can't think about not going to race tracks without Triple Eight. I can't even visualise not doing that. 
"This is not guaranteeing me anything, this is just providing me an opportunity to continue racing.
"I haven't bought myself a job but If I do a good job these next couple of years I could potentially have some sort of role with Triple Eight past me hanging the helmet up."
Having revealed his intentions for the future, Whincup is adamant that he won't let the move to buy a stake in the team take focus away from his racing.
"(I reckon I've got) at least another couple of years of driving," he added.
"My key focus is that I focus on my driving and be a racing driver first and foremost and make sure I'm not spreading myself too thin but secondly behind the scenes learn the Triple Eight and Supercars business as well as I can."
The move is part of a changing of the guard at Triple Eight with long serving driver Craig Lowndes announcing his full-time Supercars retirement at the end of the season and becoming a co-driver.
Whincup says he is unsure if he will follow that path when he calls time on his own Supercars career.
"I'm not sure about that. I haven't made that call yet as to what lies there," he said.
"The natural progression for most athletes is to go to the media I recognise that, I want to do something a bit different. Team ownership was what appealed to me the most."
This weekend will see Whincup head to New Zealand for the penultimate round of the championship at the ITM Auckland SuperSprint.