Stadium Super Trucks
Matt Brabham won the opening Stadium Super Truck race at Sydney Motorsport Park after working his way from last.
Brabham headed Gavin Harlien across the line by half a second in the 11-lap encounter with Cole Potts rounding out the top three.
Championship leader Brabham moved into the lead with two laps remaining, picking off Blade Hildebrand, Robbie Gordon, and Harlien following the mid-race competition caution.
Paul Morris ended the race sixth, while debutant Russell Ingall was one spot further back.
The Stadium Super Trucks will hold another Shootout Qualifier on Sunday at 1000 followed by Race 2 at 1345.
Formula Ford
The opening Formula Ford race of the weekend went to Hamish Ribarits who has closed to within four points of the championship lead.
Second fell to Nathan Herne with points leader Hunter McElrea in third.
After leading the opening laps, Ribarits came under pressure from Herne in the closing stages and even moved into the lead on the final lap.
Using the slipstream, Ribarits reclaimed the lead as they approached the line to take the flag by just 0.0064s.
Formula Ford returns for the final two races of the year on Sunday.
TA2 Series
Aaron Seton took a clean sweep of Saturday's Performax TA2 Muscle Car Australia Series sessions with pole position and two race wins.
Seton headed the opening race from series leader Ashley Jarvis and Hugh McAlister, series newcomer George Miedecke taking third in Race 2.
Title contenders Russell Wright and McAlister found themselves involved in incidents in Race 2, Wright getting home in 10th and McAlister recovering to fourth.
The TA2 Series concludes on Sunday with two further races to decide the 2018 title.
GT-1 Australia
Matt Stoupas will start the opening GT-1 Australia race of the weekend from pole position following two qualifying sessions on Sunday.
Stoupas led an Audi dominated qualifying session which saw the German marque occupy the top six positions.
Wayne Mack was the first non-Audi runner, putting his Ferrari 458 GT3 seventh fastest ahead of series leader Jake Camilleri and co-driver Jason Busk in a Marc Focus V8.
GT-1 will host two 50-minute races on Sunday.
RX8 Cup and Legend Cars
Ric Shaw and James Burge claimed victories in the Mazda RX8 Cup and ACO Legend Cars respectively.
Shaw headed Stephen McLaine and Terry Lewis to win the opening race, but Aaron Prosser was third in Race 2 which ended under Safety Car after a collision between Nick Dunkley and Will Cauchi.
The Legend Cars podium was completed by Regan Angel and Zane Morse in Race 1, and Brendon Hourigan and Rick Christy in Race 2.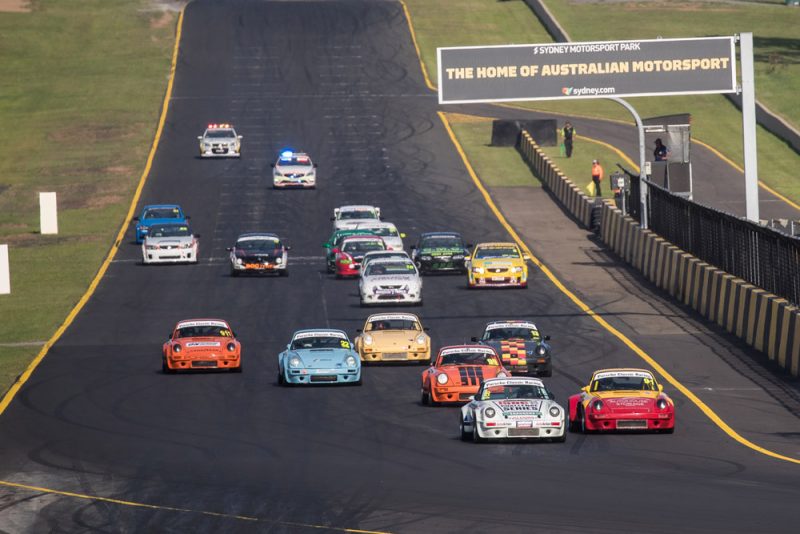 IROC/Combined Sedans
Lachlan Hamburg charged from fifth to win the opening IROC Challenge race of the weekend before going on to win Race 2.
Gavin Ross (Group 4 Commodore) won Races 1 and 2, Brent Edwards was the highest-placed of the Super 6 Touring Car drivers while Richard Mork won both Aussie Racing Utes races.