Reynolds to mentor rising star in TA2 Asia test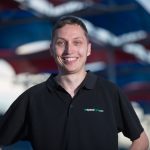 David Reynolds will travel to Thailand this week to mentor Australian rising star Jaylyn Robotham in a TA2 Asia Series test.
The Erebus Motorsport driver will accompany the 16-year-old who regularly competes in the Toyota 86 Racing Series at the Buriram International Circuit for a test in a V8 powered TA2 touring car.
Robotham is currently sixth in the one make Toyota class despite missing a round after being ruled out of the Bathurst round for failing to meet the age requirements to race at the venue. 
Managed by the same Push Talent Management group, Reynolds and Robotham will head to Thailand where the former will offer support to the young gun and cut benchmark laps in TA2 machinery.
Reynolds is also due to take a holiday in the region following the test.  
"I've seen Jaylyn's progress this year and this is a chance to work together in the same car at the same track," said Reynolds.
"I'll spend time helping the (TA2) team set up for this weekend's round as well and after that I'll take a few days off for some much needed rest and relaxation."
For Robotham the test offers an opportunity to test more powerful machinery as he looks to progress his burgeoning career.  
"I'm ready to experience faster and more powerful saloon cars now, so TA2 will be a great opportunity to experience a bigger race car with serious power," said Robotham.
"I'll be travelling with the team from Push Talent management including David Reynolds who I really look up to. Getting into a race car overseas is something I've never experienced before either, so I really can't wait."
Robotham will rejoin the Toyota 86 Racing Series for its final round at Newcastle (November 23-25).