Dane critical of Race 27 restart decision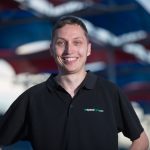 Triple Eight boss Roland Dane has criticised a decision to attempt a restart of Race 27 at the Vodafone Gold Coast 600 in treacherous wet conditions.
Officials suspended the race on lap 37 when a thunderstorm hit the circuit, dropping torrential rain on the Surfers Paradise streets. 
The race was neutralised under red flag conditions for approximately 35 minutes before Supercars decided to restart the encounter under Safety Car at 1559 local time despite heavy rain and lightning continuing.
Under Supercars regulations, points can only be awarded if 50 percent distance is completed.
At the time the field were required to log another 14 laps to reach that benchmark within a time certain parameter of 1648 local time.
The race was eventually called by officials after five laps behind the Safety Car as conditions worsened with light levels decreasing.
Dane felt the call to restart the race was wrong and risked safety of drivers and spectators. 
"There's no television issues at all. Safety comes first," he stated.
"I don't just mean safety of the drivers, I mean safety of the corner marshals, the spectators, the camera crews out on the rigs and everything. 
"And it was absolutely clear this weather was getting worse before it got better. 
"We were right to suspend the race, we were utterly wrong to try and restart it then. 
"Seriously, Stevie Wonder could have worked it out better. 
"We need to just accept the fact that sometimes, sometimes, we have to look at the big picture. 
"We have people all over us all the time about OH&S, and quite rightly so most of the time. 
"We absolutely need to be a little bit smarter about when it is raining like this and running races. 
"There comes a point where you simply have to say, 'God and the weather got the better of us'. And don't be ashamed of that."
Garry Rogers Motorsport driver Garth Tander agreed with Dane's view that it was unsafe to restart.
"That was pretty wet. When we took off again after the Safety Car it was worse than when we stopped the first time," said Tander.
"Third gear, 60km/h down the front straight and Lowndes was there in front of me, he was aquaplaning all over the place and then mine starts aquaplaning. 
"You can't actually see where the track ends and where the walls begin because it's actually getting so dark out there. 
"It's a shame, getting going again, that was a bit of show before safety, but I mean, we can't run in these conditions. 
"It's a shame because everyone watching on TV all the people here watching it live were really pumped, really up for it. 
"There was a whole atmosphere around the place because they knew the rain was coming and the rain certainly turned up.
"If we restarted that race there would be 25 cars crashed before we get to Turn 1, it's as simple as that. 
"We're racing in New Zealand in two weeks' time, we've got to get all the freight over there. 
"You've got to think a bit more big picture with that sort of stuff. It's crazy out there, you can't run in these conditions." 
The decision to abandon the race means Craig Lowndes and Steve Richards have won the Pirtek Enduro Cup while Scott McLaughlin leads the championship by 14 points from Shane van Gisbergen.