Tickford expected to run customer REC in 2019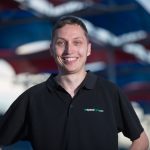 Tickford Racing appears set to run the Milwaukee Racing entry out of its stable for next year's Virgin Australia Supercars Championship, Speedcafe.com has learned.
It is understood that Tickford has returned one of its four Racing Entitlements Contracts back to Supercars which has freed up a slot at the Ford squad.
Supercars was unable to confirm entries for next season when contacted by Speedcafe.com following last week's REC entry deadline, but Triple Eight has confirmed the return of the REC that underpins Craig Lowndes' entry.
A plan has now emerged surrounding Tickford which is understood to be in the process of securing a customer entry to run in 2019, believed to be Phil Munday's single car Milwaukee Racing concern.
Tickford boss Tim Edwards was coy when asked by Speedcafe.com if his squad had returned REC earlier this week, but did confirm an intention to run four cars.
Munday entered into a customer support deal with Tickford for this year having secured a race winning Falcon FGX from the outfit to run Will Davison.
Milwaukee Racing has emerged out of the ashes of Lucas Dumbrell Motorsport, in which Munday bought a controlling stake in 2017, before completely purchasing the team from Lucas Dumbrell earlier this year.    
The collapse of LDM and rise of Milwaukee Racing saw one of the former's two RECs sold to Tickford to run Richie Stanaway after Jason Bright elected to take his REC from the Ford squad to Matt Stone Racing following the announcement of his full-time retirement from Supercars last year.
An agreement with Tickford could cast further doubt around Mark Winterbottom's future.
Winterbottom's deal with Tickford is due to expire at the end of the season and he has been linked to a possible move to Preston Hire Racing with Lee Holdsworth expected to be leaving the squad.
It is also believed that Davison has agreed a multi-year deal to drive for Munday's team which is set to run a Mustang next year out of Tickford's base.