Supercars in talks to bring NASCAR to Gold Coast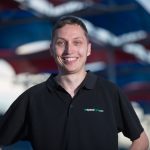 Supercars has opened preliminary discussions with NASCAR regarding the possibility of incorporating the popular American series at the Gold Coast event in the near future.
Championship CEO Sean Seamer has confirmed to media at this weekend's Vodafone Gold Coast 600 talks are underway although at a very early stage with possible formats yet to be discussed. 
The discussions have evolved following a meeting between NASCAR's executive vice president Steve O'Donnell and vice president of innovation and racing development John Probst who visited the OTR SuperSprint at The Bend Motorsport Park in August.
Speedcafe.com was told at the time by both categories that the visit was staged to foster links between the series.  
The prospect of a NASCAR race at the Gold Coast as early as next year coincides with a NASCAR demo at this year's event which will see Shell V-Power Racing drivers Scott McLaughlin and Fabian Coulthard pilot a 2016 Team Penske Ford Fusion.
Seamer says the demonstration will be closely monitored to gauge fan reaction before holding more talks with NASCAR. 
"It is still very early days we don't want to get carried away but those guys came down and met with us in August and we committed to having a more open and regular dialogue," Seamer told motorsport media including Speedcafe.com.
"We have spoken to DJR Team Penske and we are gathering information on how we might be able to get cars out and when we might be able to get cars out.
"Obviously they have got a lot of cars in rotation along with engines so we will work through all that with them. Is it a combination of main game, Xfinity or trucks? All that needs to be worked through. 
"It is still really early days. The first thing was let's get one out and running this weekend and see what it looks like and goes like and gauge the reaction. If it all goes well this weekend those conversations will keep going on.
"How I would summarise it, it is early days, positive intent and there is a lot of interest. 
"How it works operationally and make it happen is going to take a lot of time to work through. 
"We would rather we get it right and do right before we go and announce (anything)."
As previously reported, Seamer plans to head to the US in December where he is expected to hold further talks with the category and visit Team Penske's South Carolina facility.   
The possibility of NASCAR racing on the Surfers Paradise streets has already attracted plenty of attention in the US.      
It would also prove a good fit given the Gold Coast has a strong bond with America having hosted IndyCar/Champ Car events from 1991 to 2008.
The concept of bringing NASCAR to the Gold Coast has been positively met by the Queensland government.
"We've had very productive conversations between Supercars and Tourism Events Queensland and I give this assurance, I want to see this event continue to grow," said Queensland's Minister for Innovation and Tourism Industry Development, Kate Jones.
"Certainly, looking at new products and new races to add to the event are part of those discussions.
"We know that Supercars is a race product, but we also know there are many fans out there that would love to see NASCAR added.
"What we're saying is we will continue to have those conversations to ensure we grow this event and have even more people coming to the Gold Coast to enjoy this experience."
Seamer has also confirmed that Supercars is keeping an open dialogue with several championships all over the world although it has only entered in discussions with NASCAR. 
"I've spent some time with the guys at DTM and the CEO of BTCC," he added.
"We are talking to everybody and being very open and trying to maintain dialogue with our peer group globally. We haven't entered into any other discussions as of yet."