Milwaukee Falcon to be repaired after heavy shunt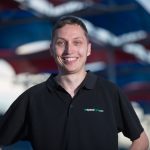 Milwaukee Racing expects its Falcon will return to action tomorrow following a frightening head on crash in final practice for the Vodafone Gold Coast 600.
Will Davison suffered a bizarre left front failure heading into the Front chicane which left him powerless to avoid heavy front on contact with the tyre wall.
Television replays showed the wheel poking from within the guard as Davison ran over kerbs at the fast left-right-left complex.
Davison, who has already suffered a broken ankle once this year in a training accident, emerged from the crash unscathed although he expects to feel sore from the impact tomorrow.
"It was a pretty bad spot to have something like that happen," Davison told Speedcafe.com. 
"There were no issues with the steering at all as I went in and for some reason as I landed off Turn 1 – I didn't touch the tyre or anything – something's broken in the upright on the left front and pulled the bolt out of the top arm and lost all steering. 
"The trajectory to the wall was a pretty bad angle and it just all happened very quick. There was nothing I could do. I'd already committed 100 percent to the corner.
"I'm okay. I'll be a bit sore. It was a frontal impact so my neck will be a bit sore but no, I'm fine. I'm just obviously gutted because we've had a tough day. We've had some issues all day.
"Disappointing for damage, we don't need that as we have just no lead into tomorrow. 
"We were just bedding in brakes and didn't hit anything. (It) just really caught me by surprise."
Team owner Phil Munday confirmed the car has avoided serious damage and should return for Armor All Qualifying which begins the Supercars running on Saturday at 1005 local time.       
"We'll have it back on the track in the morning," Munday told Speedcafe.com
"We just might have to pull the engine out too though because it's broken the airbox on the actual engine. 
"We're just going to get Tickford to have a look at that and see whether we have to pull it out, but body-wise we'll have it back out. The boys will be finished tonight.
"It appears that it's pulled one of the helicoils out of the upright and snapped the bolt. 
"We're just not sure how it's happened. 
"Obviously these kerbs are pretty brutal on the cars so that's most likely what, on a kerb hop somewhere, it's just pulled the helicoil a bit and that last one just snapped and then Will was a passenger with no hope."
A challenging day for the team saw the car finish 25th on combined times.