Camaro Supercar project will require 'critical' GM approval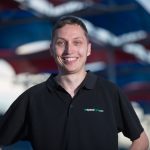 The prospect of a Camaro joining the Supercars grid in 2020 or 2021 will require approval and support from General Motors should Walkinshaw Andretti United elect to put the project into practice.
The former factory Holden squad is currently working on a feasibility study into whether the Camaro could be developed for Supercars which has now entered its next stage.
Walkinshaw Andretti United has allocated significant resources to the project with CFD work underway as the operation wishes to ascertain the cost, performance, and whether the bodyshape will fit over Supercars' control chassis and comply with safety regulations.
The Camaro would be a good fit for the team given its road going arm Holden Special Vehicles is selling the American muscle car, but team co-owner Ryan Walkinshaw has stressed that all the variables must stack up before a green light can be received, including support from GM.
"We've got to make sure from the performance and safety aspects that it's going to be something that we'll want to run," said Walkinshaw.
"We've got a strong relationship with GM, it's absolutely critical that we have their support and engagement and permission to do it.
"At the end of the day we're not going to do something without their permission, and we've got a very important business relationship to maintain with them, so it's going to be their call as well."
Walkinshaw says his squad has kept GM informed of their progress with the Camaro study but won't hold further discussions until an internal decision has been reached regarding the project.
"We've engaged with them (GM), we've kept them informed of what we're doing," Walkinshaw added.
"There'd be no need to go any further with that until we made an internal decision.
"There's no point having that discussion until we're really confident this is something we want to do.
"At the end of the day we've still got technical work that needs to be done before we even have that discussion internally and then there's going to be a branding discussion and then there's going to be a safety discussion and then a performance discussion so there's more to happen before we go down that route for sure."
A deadline for a decision is yet to be confirmed although Walkinshaw has previously hinted that in an ideal world his squad would like to know if the Camaro is possible by the end of the year.
"How long is a piece of string? The work's got to be done and we won't do it until we're confident we've got the work.
"At the moment, I've mentioned that If it was to happen, which is still a big if, we'd probably be looking at 2020 or 2021 because we want to give it the best crack possible because we want to run this another year. 
"That's a discussion we'll have internally, there's no drop-dead day at all."
While WAU is keen for the Camaro project to come to fruition, Walkinshaw has admitted his team has not pinned its hopes on the car and is continuing discussions with other manufacturers as it assesses its options for the future.