De Silvestro lands Daytona 24 Hours drive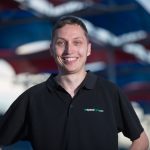 Simona de Silvestro will contest next year's Daytona 24 Hours after being named in an all female line-up for the IMSA WeatherTech SportsCar Championship opener.
The Nissan Motorsport Supercars driver will team up with Katherine Legge, Jackie Heinricher and Ana Beatriz in a GTD class Acura NSX GT3 prepared by Meyer Shank Racing.
While the team plans to field the car in the entire WeatherTech SportsCar Championship, de Silvestro is only confirmed to join the squad for the Daytona 24 Hours race from January 24-27.
De Silvestro is due to enter the final year of her current Supercars contract next year.
"It's pretty exciting and I think for sure the line-up that we have is really strong," said de Silvestro.
"All of us girls have a lot of credibility and I think it will be quite exciting so I'm really looking forward to Daytona. I think the team dynamic will be very strong.
"For myself, it will be a little bit of learning but I am looking forward to it.
"It's quite a special feeling to be a part of such a good team that has had a lot of success so I think this is going to be a great car to be in and to give us all a strong shot. I just can't wait to go racing in Daytona, which I have always dreamt about."
The entry, backed by construction machinery manufacturer Caterpillar, will be the first time an all female team has entered the Daytona 24 Hours since 1967.
De Silvestro is not the only Supercars driver to contest the event in recent years with the Swiss ace due to follow in the footsteps of 2016 Supercars champion Shane van Gisbergen, who has featured each year since 2014.