Supercars explains Sydney 2020 summer series vision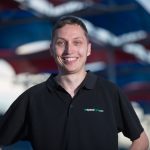 Supercars intends to strike a long term deal to host a night race at Sydney Motorsport Park which will likely kick off a new summer series calendar concept from 2020.
The championship has confirmed today that the Western Sydney venue will be dropped from the 2019 calendar despite the overwhelming success of the inaugural Red Rooster Sydney SuperNight 300 in August.
While Perth will host a night race next year, the series wishes to re-install the SuperNight event in January 2020 as a potential curtain raiser in what is seen as a move towards a summer series.
Supercars is currently working with Sydney Motorsport Park owners the Australian Racing Drivers' Club (ARDC) and New South Wales government to strike a deal for permanent lighting, and in tow a long-term night race contract.
This year the meeting ran under temporary lighting at a significant cost to Supercars although the spectacle proved a huge hit with fans as a bumper crowd attended the race.
Moving the race to January has been seen as much safer window for weather and part of drastic calendar shift for 2020, according to Supercars CEO Sean Seamer.
Earlier this year Speedcafe.com revealed Supercars was investigating the possibility of a summer series.
"We are working with the ARDC and obviously they are still in negotiations with state government around permanent lighting," Seamer told Speedcafe.com.
"Irrespective of that we will be back in early 2020.
"If they are successful in getting lighting at the track, we will be looking to do a long-term agreement with them for a night race in Sydney.
"Let's keep in mind that we were there in the middle of August and we were very lucky with the weather.
"Our primary focus is getting a better weather window for Sydney so that we can race at night and not be as concerned with the weather and we will do that in 2020."
The prospect of a Sydney night race to open the season in January is part of larger plan for the 2020 calendar which aims to factor in a winter break.
Such a move will also see the championship avoid some clashes with AFL and NRL competitions.
Racing will finish in the traditional November/December slot but start earlier with racing in the January and February summer months.
Seamer says the date for the Sydney night race opener will be determined once the Australian Open tennis tournament announces its 2020 plans.
"We will be looking to start earlier (in 2020)," Seamer added.
"We are looking to navigate better weather windows and we have bit of work to do around World Superbikes (Phillip Island) and Australian Open early in the year.
"As we know more about what is happening with the Australian Open we will make decisions around our first race meeting. We have got the Bathurst 12 Hour as well but we will start earlier than we have in the past.
"For 2020 what we are working through is potentially taking a winter break and then coming back in the second half of the season.
"What it does is it allows our events to be in better weather windows and avoid a lot of overlap with the NRL and AFL.
"It enables us our drivers to do a lot more international events overseas should they wish, so there are a lot of positives."
Supercars will continue to work on plans for its 2020 schedule throughout next year.