Supercars 2019 grid set to reduce with T8 REC return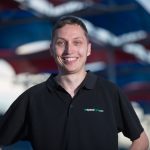 Triple Eight is expected to hand back its third Racing Entitlements Contract to Supercars which would likely result in a 25-car grid next season.
As previously reported, the multiple championship winning operation indicated plans to scale back to two cars in 2019 with the REC currently fielded for Supercheap Auto Bathurst 1000 winner Craig Lowndes up for sale.
The make up of the 2019 grid is yet to be revealed with several REC and driver movements touted.
Super2 outfit Kostecki Brothers Racing had been linked to the REC having indicated its desire to step up to the main game, while Matt Stone Racing has told this website that it wishes to purchase a REC outright instead of leasing the entry owned by former full-timer Jason Bright.
Supercars has issued a deadline of this Friday for teams to confirm entries for next season, but Triple Eight boss Roland Dane has told Speedcafe.com that his REC will most likely be returned to the championship.
Such a move would see the series reduce to 25 cars which was last seen in 2015 prior to Triple Eight's successful bid to acquire the REC in question for 2016 to accommodate Lowndes following the arrival of Shane van Gisbergen.
"It won't be sold. I mean if it was going to be sold I would know about it, as it were, so we'll be handing it back to Supercars at the end of the year," Dane told Speedcafe.com.
"We bought it (the REC) for a specific purpose and that's now fulfilled and Triple Eight is a business and it needs to stack up and anything we do needs to stack up.
"If it doesn't stack up then we won't do it and that includes entering cars in Supercars or any other categories.
"No it is not a worry (going back to 25 cars) that's what we were in 2015. So, it didn't screw us then, won't screw us now."
Dane has admitted there has been plenty of talk in pit lane regarding REC movements but is unsure as to how much of the interest is serious.
However, he does expect Matt Stone Racing to purchase Bright's contract outright for next year.
The rookie Supercars squad has signed a technical support deal with Triple Eight for 2019 when it will run a ZB Commodore for Todd Hazelwood.
"I'm not sure how much real interest there is in RECs," said Dane when asked if he was surprised by the lack of interest in the REC.
"People are talking about it, but hopefully Matt Stone ends up buying Jason Bright's one, he's got a lease at the moment.
"I think that's likely to happen, which is good.
"Matt Stone should be a long term player in the category and it's a long time since Brighty ran his own race team, so much better off for that to be with Matt Stone.
"People talk about RECs all day but talk is cheap, maybe there will be something for 2020 if they buy the REC that we're handing back from Supercars at the end of the year then they'll race it in 2020."
There are a number of teams yet to confirm their plans for next season with Preston Hire Racing among those in the spotlight after it emerged that Lee Holdsworth is likely to leave the squad at the end of the year.
Meanwhile, Nissan Motorsport wishes to remain a four car outfit but is yet to announce its line-up for 2019.