Reynolds: Worst feeling I've ever had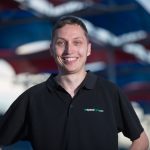 David Reynolds says he was beginning to lose his vision after describing his final laps of a heartbreaking Supercheap Auto Bathurst 1000 as the worst feeling he's ever experienced behind the wheel.
The Erebus Motorsport driver appeared to be in the box seat to claim a back-to-back Bathurst triumph when his right leg began to cramp up leaving Reynolds 'in a world of pain'.
Reynolds tried to battle on but lost the lead to eventual winner Craig Lowndes at Griffins Bend on lap 135 as he was unable to put up a fight.
He pitted for relief via an electrolyte supplement but was caught spinning his wheels when his left leg cramped up, which triggered a drive-through penalty that put the car out of contention.
The pain coupled with diminishing vision forced him to pit again where he handed the car over to Youlden who went on to finish in 13th spot.
Given the entry had led 112 laps and was the fastest car out there the fact Reynolds' body had failed him proved a devastating blow to last year's Bathurst 1000 winner.
He admitted the first warning of the impending issue came when his concentration began to fade.
"The biggest race of the year, I had the fastest car, I'm just bitterly disappointed, just so bitter," said Reynolds.
"We've been the best performing team all week, everyone's put their heart and soul into it, and I failed at the end of the day.
"There were only 30 laps left and my car was sensational, it was the best I've ever had here.
"My mind started to go, and that's when I couldn't do the lap time. Lowndesy was catching me, and then when he got to me, that's when it cramped.
"Up Mountain Straight, it just f***king cramped. I don't know, I was probably on 50 percent throttle.
"I was telling myself, I was trying to tell my brain push a hundred percent, push a hundred percent,' and I just couldn't… my movement… my calf was locked up, it felt like my toes were crossed into each other, and I just couldn't.
"I got to the corner and I was trying to tell myself to move onto the brake, and I wouldn't want to even move to the brake. I was in a world of pain; it was the f***king worst feeling I've ever had in a race car in my life.
"It was right (leg), then in the pits, (I) selected first gear, foot on the clutch, left leg goes, I spin the wheels, that was a penalty.
"During that race, I got to a point – I kind of remember it now – I thought my screen was foggy, like foggy, but then they did the tear-off and it didn't get any better, and that's when I realised my vision was f***ked.
"The vision was diminishing, so I was in a bad state, but I'm too competitive for my own good and I just didn't want to give up.
"At the end of the day, if I stayed out, I would have crashed the car, hundred percent, so the best thing we did was to just put Luke in but when he was asking me 'Do you want to stay in?', of course I want to stay in, as a racing driver you never want to get out. You're second on the road, you've had a drama, but you can't give up.
"Sometimes you just try and be mentally strong and your body just gives up. That's what gave up; my body just gave up at the end of the day."
Reynolds says he is unsure how the situation had manifested itself during the race but revealed that his preparation hadn't been the best claiming that he felt 50 percent prior to race start.
"I've had a very big lead-up, we've had terrible sleep, and I just haven't looked after myself that well," he added.
"I've got to learn to say 'no' to certain things and doing things and we tried. Yesterday I was probably running on 70 percent, this morning I was probably 50 percent, (in) the race I was pretty much at zero.
"I've never had that (and) I've done Half Ironman stuff, run for three or four hours straight, and never had anything like that in my life. I was pushing really hard, though, for the whole race. Every time I got in I was giving it everything I had."
Speaking some time after the race, Reynolds was still sore although he says the emotional pain of losing the race was equally as raw.
"I'm still sore, still tender. More so emotionally, just dead than anything (else)," he said.
"I was just here to win, not come second. It's just unbelievable. Gutted for everyone involved."
Reynolds remains fifth in the championship standings following today's race.