Holdsworth talking to teams for 2019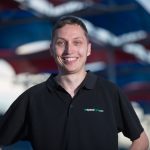 Lee Holdsworth says he is talking to teams for next year after declaring himself on the driver market.
Holdsworth appears set to leave Preston Hire Racing at the end of the year with the outfit attracting plenty of speculation regarding its plans for 2019.
Earlier this week it had been suggested that Mark Winterbottom was linked to the one the car squad run by Charlie Schwerkolt.
The speculation prompted Tickford Racing to issue a statement regarding its out of contract 2015 champion.
Schwerkolt told Speedcafe.com earlier this year that he was considering all option for next season and refused to comment on the rumours when approached yesterday.
Such talk has proved unsettling for Holdsworth who has endured a shocking season with the Preston Hire Racing squad having yet to score a top 10 finish.
However, the 35-year-old, who has raced in Supercars full-time since 2006, is positive about the possible options he has to remain in the main game next year.
Holdsworth feels he is driving at his best and has plenty more to give.
"I'm certainly on the market and talking to teams and the priority is to be in the main game next year with a full-time gig," Holdsworth told Speedcafe.com.
"I think that stuff will pan itself out over the next four or five weeks.
"I don't feel in any rush as I have got a couple of things going and if it comes off I will be in a competitive car next year.
"This hasn't been a very good year to say the least so it is exciting that there might be something on the horizon.
"I feel like I have been robbed this year of results and its been a very frustrating year.
"I know I'm driving at my best at the moment so it is sort of going to waste."
While Speedcafe.com understands there could be several movements in the driver silly season, Holdsworth is not entertaining the prospect of becoming a co-driver at this point.
"At this stage I'm not focussed on co-driving, that is last resort. You have to look at all options," he added.
Holdsworth says he plans to block out the uncertainty regarding 2019 this weekend and focus on delivering a result in The Great Race on Sunday.
"It is not ideal coming into the biggest round of the year having rumours flying up and down pit lane and no one to ease your mind," he said.
"I'm here to focus on the race and I've been here plenty of times and I know if you keep a cool head, you stay sensible and block all that stuff out.
"All I've got to do is after this round is focus on my own career and put myself in the best position possible to get some results I will deserve."
Holdsworth will start The Great Race from 21st position alongside co-driver Jason Bright.