DJRTP: Triple Eight can be beaten at Bathurst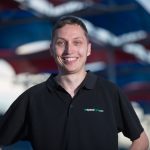 Shell V-Power Racing maintains that Great Race favourites Triple Eight can be beaten at this year's Supercheap Auto Bathurst 1000 after the latter showcased a glimpse of its dry pace potential in qualifying.
The Ford squad among others in the pit lane have labelled the factory Holden squad as the team to beat having dominated the Rabble.Club Sandown 500 last month.
Inclement weather has plagued the majority of this year's event with Friday's dry qualifying session the first opportunity to show true pace.
All three Triple Eight cars featured in the top six, while only two Fords secured a spot in today's Armor All Top 10 Shootout.
Jamie Whincup topped the times in qualifying where he posted a 2:04.10s, which was 0.17s faster than the Shell Ford of Scott McLaughlin, while team-mate Fabian Coulthard was 15th and hampered by a vibration in the car.
Whincup's lap was the second fastest ever logged in a Supercar, only bettered by McLaughlin's 2:03.8312s that secured the pole last year.
The time was made all the more impressive given it was achieved after only a handful of laps in optimum conditions with the new ZB Commodore.
While Triple Eight's one lap pace was brisk, DJR Team Penske managing director Ryan Story believes that anything can still happen in the race.
A further indication of the current form guide will emerge with a final 60 minute practice session scheduled today ahead of the Armor All Top 10 Shootout.
"The guys earned their pay cheques when they are asked to do that (given all the wet running) and it was a really tough session," Story told Speedcafe.com.
"It was good to have a lot of sets of green tyres to throw at it and get up and go and the engineers did a good job.
"We know that it doesn't necessarily matter where you start this race; it doesn't normally have any sort of correspondence as to where you finish it.
"This is Bathurst. Anything could happen. Look, on one hand we are thinking of the championship and we want to get a result, but the other hand everyone comes here to win this race.
"That's what we're here for, that's what we're trying to do on Sunday."
Triple Eight has downplayed the favourites tag in the lead up and throughout the week.
Team manager Mark Dutton says his squad has however done its homework for Bathurst with the new ZB Commodore.
"Honestly, I think the whole team don't really look at favourites and things like that, we just do our work," Dutton told Speedcafe.com.
"It's just preparation, knowing what to roll out of the truck with at this circuit. Learning what the previous model, the VF, liked around here, the differences we've seen through the year and seeing what you need to transfer, what can carry over, what needs to be different.
"The engineers and drivers did a cracking job of that, which you saw from all three cars being in the top 10. We can be proud as a team.
"I think everyone has got more pace because you saw different people taking sector times up the top. Jamie was the quickest, but it was not like he was quickest in every single micro-sector.
"There's definitely more time out there, but all the drivers I think did a fantastic job for how little running there was.
"We can do the job and if things get thrown our way, we'll adjust and adapt and try and fix everything we can on the run.
"It's a long day, Sunday, you can't have any sort of dominance, it's not a part of Bathurst – it's just hard work and preparation."
Practice 6 is due to begin at 1000 AEST.