WAU continues manufacturer talks amid Camaro push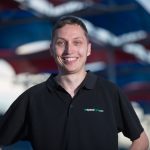 Walkinshaw Andretti United will continue discussions with other manufacturers for 2020 while it focusses on 'doing everything it can' to bring the Camaro to Supercars.
The operation has been investigating its options for the future, which has led to a full-blown study into the feasibility of turning the Chevrolet Camaro into a Supercar, that has now entered the next stage of planning.
Team co-owner Ryan Walkinshaw says his squad will only make a decision once CFD work has been completed and the squad understands the cost, performance and technicalities of the project.
Ha admits that there are plenty of hurdles to overcome such as whether the bodyshape will fit over Supercars' control chassis and comply with safety regulations.
Having allocated significant resources to the project, the team is eager to see the Camaro face off against the Mustang, but is not pinning all its hopes on the car.
The squad has already held discussions with several manufacturers and will continue to do so throughout the Camaro project should the study prove unsuccessful.
"We have made no secret that we have spoken to a fair number of manufacturers already and we've got some interest in other ones as well, and we will keep working in parallel to what we are working on with the Camaro study," Walkinshaw told Speedcafe.com.
"I'd like to think all discussions with manufacturers are relatively serious."
A move to a Camaro would, however, fit nicely given Walkinshaw's HSV automotive arm has just put the road going version of the car on sale, examples of which are at Bathurst this weekend.
"I see potential synergies with what we build and what you race," he said.
"There is potentially some value there but in saying that we have two partners in this team that don't have a road car business or the GM relationship that we do so we are still looking at other options for what we do going forward.
"That could be staying with the ZB (Commodore), going with the Camaro or looking at other body shapes and manufacturers.
"The fans really want this (Camaro) to happen even if it is just a project to show the fans that we are looking at it and we are going to try our best to find a solution for this.
"Getting Camaro in against Mustang recaptures that old history of GM Holden versus Ford in Australia and it catalyses that again and brings back that emotion that has been lacking in the category over the last few years.
"From a fan perspective we think it is really important that we take this really seriously and take a proper look and work with Supercars and the Commission if we go down this route.
"We will do everything we can to try and get it through because it is clearly in the best interest of the sport to do that and re-engage fans."
Walkinshaw has confirmed that a sizeable amount of work on the Camaro project has been undertaken, but is unsure when a final decision will be made.
"It (a decision) will depend on when we get all the information," he added.
"The boys have done a fair bit of work (on the Camaro study). They have done a lot of work on the CAD which has shown a few challenges that will need to be overcome but it looks pretty good.
"We have still got a lot of work that needs to be done before we can go and make a decision about whether we are going to do this. That includes the financial side of things as well and the performance side and the safety for the driver.
"We were always going look at doing the CFD because you need to have all the information in front of you before you can make a decision.
"It is one next step in the process and we will go through it and if we agree internally that it makes sense from all different angles and a consensus from everyone in the team that is something we want to pursue.
"Then we will start talking with Supercars regarding the next step which is still a while away."
The squad will continue its Supercheap Auto Bathurst 1000 assault today with Practice 4 scheduled for 0830 AEST.