Lowndes: Two cars the best decision for Triple Eight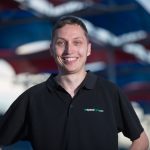 Craig Lowndes believes Triple Eight boss Roland Dane has made the best decision for his team by scaling back to two cars for next season.
It was revealed last week that the multiple championship winning outfit will sell one of its Racing Entitlement Contracts which comes in the wake of Lowndes' decision to step down from full-time Supercars racing at the end of the year.
Triple Eight had investigated the possibility of replacing Lowndes although negotiations to secure Simona de Silvestro fell through before the Rabble.Club Sandown 500.
The squad's plan to expand to three cars in 2016 only arrived as a method to accommodate long serving driver Lowndes following the signing of Shane van Gisbergen from Tekno Autosports.
Speaking after the decision Lowndes also admitted it is an honour that Dane has stuck to his original reasons for running three cars in the series.
"It is (an honour)," Lowndes told Speedcafe.com.
"It is a decision the team wanted to make or had to make. There is no doubt that Roland has made the best decision for the team.
"It was nice that he expanded the team to three cars for me and if he does that in the future for someone else I'm not sure.
"It was an honour for Roland to have done that and now the team have made the announcement they can now gear up and focus on next year."
The move to two cars has also confirmed that Lowndes will now partner Jaime Whincup or Shane van Gisbergen in next year's Pirtek Enduro Cup after revealing during his retirement announcement that he will remain as a co-driver with the operation for the next two years at least.
Lowndes says a decision is yet to be made which car he will drive and an outcome is only likely to become clearer after the Vodafone Gold Coast 600 later this month.
Whincup is currently partnered by Paul Dumbrell while van Gisbergen has been joined for this year's enduros by two-time Le Mans 24 Hours winner Earl Bamber.
"I think the biggest thing will be after Gold Coast when we find out which co-drivers are available," Lowndes added.
"The biggest questions are whether Earl (Bamber) can come back and if PD (Paul Dumbrell) wants to come back.
"They are the questions which will influence our decision as to who I drive with. I've driven both of their cars and I could fit in with either of them."
Meanwhile, the destiny of Triple Eight's third REC is yet to be confirmed although it is understood that Super2 team Kostecki Brothers Racing is among the possible suitors.