Motorsport community pays tribute to Bob Jane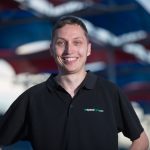 Members of the Australian motorsport community have paid tribute to touring car legend Bob Jane.
The four-time Australian Touring Car Champion and Armstrong 500 winner lost a long battle with prostate cancer, aged 88.
Jane had a deep involvement in Australian motorsport, winning the first two 500-mile races at Bathurst in 1963 and 1964 off the back of wins in the last two held at Phillip Island, and claimed the Australian Touring Car Championship four times (1962, 1963, 1971, 1972).
Off track, he built the Thunderdome at Calder Park, which was the centrepiece of the local stock car racing which he sanctioned in the late 1980s and 1990s, and hosted the Australian Grand Prix on its road course from 1980 to 1984.
THE FINAL RACE OF THE 2023 REPCO SUPERCARS CHAMPIONSHIP ON ONE OF THE WORLD'S BEST STREET CIRCUITS. GO ALL IN AT THE VAILO ADELAIDE 500, CLICK HERE TO BUY TICKETS
Jane established Bob Jane T-Marts in 1965, and the tyre chain took on naming rights sponsorship of the Bathurst 1000 from its 40th year, 2002, until 2004.
In recent years Jane was inducted into the Supercars Hall of Fame and the Australian Motor Sport Hall of Fame.
Former racer now team owner Brad Jones believes Jane will be remembered as a visionary for the sport.
Jane had a close connection to the Jones family having been godfather to Brad Jones Racing owners Brad and Kim.
BJR paid tribute to the former driver and businessman with a special livery on Tim Slade's #8 ZB Commodore commemorating Jane's iconic orange Monaro at the Rabble.Club Sandown 500.
"He was certainly a visionary and ahead of his time in the tyre business and in motorsport," Jones told Speedcafe.com.
"Bob had great sponsorship deals when nobody else was doing it in our sport and got the Seven Network to support racing working with Mike Raymond.
"He built the Thunderdome and an amazing tyre business. It is a very sad day really.
"In the 1980s Calder was the best venue in Australia.
"A Bathurst winner, an Australian Touring Car champion, he was one of those guys that certainly mixed business and pleasure.
"He built a big business and unlike nowadays his single focus wasn't on car racing, so for him to be able to do those things and build a successful business was a testament to where he was in life.
"I was a very young kid when he was racing cars and I had more to do with him when he became a promoter and I was racing cars.
"As a racer, there are plenty of people in this world that wouldn't mind being a Bathurst winner and an Australian Touring Car champion.
"He was very close to my Mum and Dad and was in business with my father so there was a strong connection there.
"Bob was someone who wasn't afraid to give it a go and actually try and make his dreams come true."
Supercars CEO Sean Seamer says Jane will be long remembered for his contribution to the sport.
"Our thoughts are with Bob's family and many friends at this time," said Seamer.
"Bob was one of the greatest race car drivers the Australian Touring Car Championship has seen. Driving in one of Australian motorsport's greatest eras, his accomplishments on and off the track will long be remembered.
"Few will ever win four Championships and Bathurst crowns, let alone four 500 titles in a row, the first two of those coming when the Great Race was first held at Phillip Island.
"As the very first winner at Bathurst in 1963, he went on to become a familiar and long-time partner of the Great Race through the Bob Jane T-Marts brand. We will ensure we pay our respects to the Supercars Hall of Famer and his family at Mount Panorama next weekend."
CAMS President Andrew Papadopoulos paid tribute to Jane's commitment to the sport.
"Bob was an influential character in motor sport and made a significant contribution across many years," said Papadopoulos.
"On behalf of everyone at CAMS, we pass on our deepest sympathies to the entire Jane family at this sad time."
Everyone at Shell V-Power Racing Team is saddened to hear of the passing of Bob Jane at 88.

He was a determined racer, winning four ATCC titles and four Phillip Island/Bathurst enduros.

Inducted into the Supercars Hall of Fame in 2000, he will be missed. Rest In Peace, Bob. pic.twitter.com/oZcFC4n73v

— Shell V-Power Racing (@DJRTeamPenske) September 29, 2018
We're saddened to hear the passing of icon and legend, Bob Jane. His contribution to Australian motoring is unrivalled. His many feats, from touring car titles to Bathursts, included his role as part of the drive team in the gruelling 1965 XP Falcon Durability Run. Thank you, Bob pic.twitter.com/lTRbxSdYSg

— Ford Australia (@FordAustralia) September 29, 2018