Whincup expecting 'crazy competition' for Bathurst win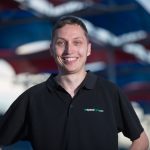 Jamie Whincup is expecting 'crazy competition' to win next weekend's Supercheap Auto Bathurst 1000 and has warned against a repeat of the Triple Eight domination at Sandown.
The reigning Supercars champion heads into Mount Panorama in the best possible fashion following a dominant victory at the traditional Rabble.Club Sandown 500 Bathurst warm-up.
Whincup and Dumbrell topped a Triple Eight one-two-three that sent a warning to the entire Supercars field heading into the Great Race.
While rival Ford teams Shell V-Power Racing and Tickford Racing have aired their concerns following Triple Eight's performance, Whincup is not reading too much into the Sandown form.
He believes there will be several strong challengers for this year's Bathurst showpiece.
"Sandown is one thing and Bathurst is a different devil," Whincup told Speedcafe.com.
"Everyone is making some big statements in the press but no one really takes the performance from Sandown into Bathurst.
"It is a standalone event and everyone rises to the occasion and we are expecting some crazy competition which we want and we want everyone to be performing at their best.
"One hundred percent there will be challenges up and down pit lane.
"It is already an unbelievably tough race to win and easy race to lose. With the competition like it is at the moment it is going to be on.
"We are looking forward to the challenge and it is going to be a long old grind."
Whincup has famously come unstuck in his quest to add a fifth Great Race title in recent years.
After winning the race alongside Dumbrell in 2012 he has been in contention each time since.
In 2013 he finished second to Mark Winterbottom before ignoring team instructions while leading in 2014 which saw him run out of fuel and drop back to fifth.
Mistakenly overtaking a Safety Car cost him a shot in 2015 before the infamous failed protest the following year having won the race on the road after incurring a penalty for causing a late race incident with Scott McLaughlin and Garth Tander.
Last year Whincup and Dumbrell struggled for pace missing the Top 10 Shootout before an engine issue struck when in the top five in the race, which saw them eventually come home in 20th position.
Despite the misfortune, the 35-year-old says that Bathurst doesn't owe him anything.
"No I don't (think Bathurst owes me anything)," he added.
"We haven't got results there in the past and I've walked away going 'we didn't make the most of that and we are never going to get that back'.
"I'm certainly not going there this year to make amends for anything that has happened in the past.
"We had a tough run at Bathurst last year we have been in contention there for many years in a row and last year we underperformed.
"Unfortunately that is heavily in my mind to make sure we learn from what happened last year, and we are better this year.
"Have we got all the answers? I'm not sure.
"We have put it down to a few things that could have gone wrong there, but until we get to the circuit and test them out we won't be 100 percent sure.
"We are certainly not overconfident but we are not under-confident. We will go there and do what we do at every round and try and put our best foot forward."
The Supercheap Auto Bathurst 1000 will begin next Thursday.