Larry Perkins tribute for Kelly/Jacobson Nissan at Bathurst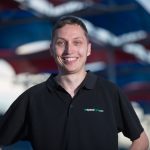 Nissan Motorsport has marked 25 years since Larry Perkins' 1993 Bathurst 1000 victory by recreating the famous Castrol livery for this year's Supercheap Auto Bathurst 1000.
Rick Kelly and co-driver Garry Jacobson will drive a Nissan Altima sporting the striking black, red, green and white design and the number 11 that Perkins carried to victory at Mount Panorama.
Perkins, a six-time Bathurst winner, claimed his first in the Castrol colours in 1993 when driving alongside Gregg Hansford having won from pole.
The now 68-year-old went on to enjoy two more victories with the famous livery alongside Russell Ingall in 1995 and 1997, the former when the pair came from last to first.
Recreating the design for this year's Mount Panorama classic is poignant with the Kelly Racing/Nissan Motorsport operation born out of the Castrol Perkins Racing team in 2009.
The Altima paying homage to Perkins' 1993 success was photographed at the team's current dyno location in Moorabbin, the former home of Perkins Engineering.
"Larry is a real legend of our sport and a lot of his most famous moments were at Bathurst," said Kelly.
"To win three times in five years is a remarkable performance. This livery is definitely a fan favourite and something I am honoured to be racing in.
"I hope 2018 will be the fourth victory for this design.
"It was a special moment to have Larry walk into his old workshop to see the car.
"I grew up watching Larry race and this is without doubt one of the key highlights of my career sharing this moment with him."
Running in colours that have been so successful at Bathurst won't add to the pressure of the Great Race, according to Kelly, a two-time winner in 2003 and 2004.
"There's no added pressure racing in this sort of car, I mean, the event itself applies more than enough pressure as it is. I only hope Garry (Jacobson) and I do Larry and the classic Castrol livery proud," Kelly added.
The livery will hit the track for the first time next Thursday when opening practice for this year's Great Race begins.
CLICK HERE for an extended image gallery.
CLICK HERE for the video launch.