Shift in belief for Nissan's Bathurst expectations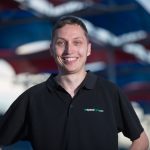 Nissan Motorsport team manager Scott Sinclair says there has been a shift in belief at the operation heading into this year's Supercheap Auto Bathurst 1000 having exceeded expectations this season.
The Braeside squad has emerged as a genuine force this season highlighted by a race win and four further podium visits in the 24 races to date, which represents a marked improvement on a difficult 2017 campaign.
Led by Rick Kelly, the Altima is much improved in 2018 and is a regular top 10 contender in both qualifying and race trim.
Its continued development through the year has prompted a change in expectations for Bathurst with Sinclair admitting his team is genuinely looking forward to a great opportunity at Mount Panorama, where in the past the squad has been apprehensive.
The Altima has previously struggled with fuel economy in enduro events but this season there appears to have been improvements in that area.
"It's going to be interesting. We've exceeded our expectations at pretty much every event since Tasmania, so we're confident," Sinclair told Speedcafe.com.
"There's been a few tracks we've gone to where we've surprised ourselves. We're looking forward to Bathurst.
"We've always been strong across the top of the mountain. We think what we've done this year will help that again.
"We know we're more competitive in a straight line than we have been in previous years, so again that will help as well.
"Whether we can put the whole thing together and whether the other guys have made more improvements than us remains to be seen.
"In the past we maybe weren't looking forward to going, I can guarantee that everyone is looking forward going and it's a great opportunity for us, as was the case at Sandown."
The development push has seen the outfit's engineering department focus on a plan to master Supercars' decision to force each entry to change brake discs during next Sunday's race.
The squad has been working on a system since Townsville in July before debuting an assembly that allows the brake rotor and caliper to be changed as a single unit on its Altimas at Sandown.
Sinclair believes the area will be an important factor in the race which has warranted the resources spent on developing a complex system.
"We're pretty happy with how that's all going. We didn't really have any intention of doing it at Sandown but we wanted to have a go at it in a live pit lane during the warm up," Sinclair added.
"We had a go at it which was great and we've sort of got a few things to go. It's a really complex project and we probably underestimated the complexity of it and we're still learning a lot about it.
"We've been going on it since Townsville. We had bits on the car there which we were trying to understand how to get it reliable.
"Obviously, we're all trying to get to below 30 seconds. Ideally, in the low 20's to 25 seconds is where we want get to, which we think is quite doable.
"That's what we're working towards and we feel like we're in a pretty good position at the moment but you know anything can happen at Bathurst.
"It is important but at the same time pad stops have always been important. You just don't put enough effort into it naturally because there's so many other things going on and then if it goes wrong, your race can be done."
Nissan Motorsport scored a pair of top 10 finishes in last year's Great Race with the Michael Caruso/Dean Fiore entry sixth and Todd Kelly/Jack Le Brocq seventh.