Rockhampton steps up Supercars 2020 bid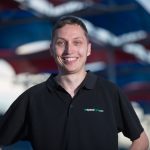 Rockhampton Regional Council has launched a new campaign urging residents to show their support for a possible new Supercars event in 2020.
The Queensland city first indicated its wish to host a race back in November last year and has since revealed designs for an estimated $20 million street circuit project located at 'The Common', a suburb used for sport and recreation including the Rockhampton Jockey Club.
Since those plans were released the Queensland Government pledged $100,000 for a feasibility study to be carried out, with Tourism Events Queensland due to inspect the proposed site in November.
Today Council has stepped up its bid by asking locals to sign a petition in support of the event which it hopes will help entice Supercars to the region in 2020.
A website www.rockysupercars.com.au and social media pages have been built for people to show their support while a host of community events have been planned to further show the city's commitment to such an event.
Mayor Margaret Strelow said it was time to rev up support, with discussions nearing the decision stage with Supercars.
"Our community is extremely passionate about bringing this event to Rockhampton. It's that passion we want to show to the decision makers so that when they're looking at the rounds for the 2020 calendar, Rockhampton is on there," said Strelow.
"Tourism Events Queensland will be visiting Rockhampton in November to look at our site, so the time to do this campaign is now.
"If we want this to happen, we need the community to get behind it and Advance Rockhampton has today launched a new campaign for locals to support.
"Sign up as a supporter on the website, like the Facebook page, use the profile filter and help us show Supercars why Rockhampton deserves a spot on the 2020 racing calendar.
"We'll have mini community events over the next week helping you sign up, and, as an incentive for our most passionate fans, the first 1,000 supporters will receive a merchandise pack.
"We've seen the reports from places like Speedcafe that show there is a lot of competition to host a Supercar Championship events. We have been talking to Supercars throughout this process and we are at the point where we need to rev up the noise.
"We can't do it without the community's help so please, get behind this campaign, sign up, and let's bring a Supercars event to Rockhampton in 2020,"
Supercars is aware of the latest initiative launched by Rockhampton Regional Council and is monitoring the bid for 2020.
"Our stance has not changed. We are still supportive of the council and the bid for a race and this of course would be subject to ongoing discussions with Tourism Events Queensland and the state government as to how Rockhampton might fit into a future calendar," a Supercars spokesman told Speedcafe.com.
"We've provided the Central Queensland Motor Sporting Club with funds to investigate the feasibility of a Rockhampton Supercars bid. Once the study is complete, we'll have a better idea of what needs to be done to lure elite motorsport to the Capricorn Coast," added Queensland Tourism Industry Development Minister minister Kate Jones.
The championship is yet to reveal its 2019 schedule which is not expected until late October.