Brake disc change key for MSR Bathurst prep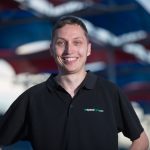 Finessing pit stops including the mandatory brake disc change introduced for this year's Supercheap Auto Bathurst 1000 has emerged as a key part of Matt Stone Racing's Great Race preparation.
The Queensland operation is gearing up for its maiden assault on the Mount Panorama classic with one of the youngest driver pairings in Todd Hazelwood (23) and Bryce Fullwood (20).
While the squad has a wealth of experience in racing, the Rabble.Club Sandown 500 was the team's first attempt at a Supercars enduro which further highlighted a need to sharpen up its pit stop procedures.
Hazelwood and Fullwood combined to finish the race in 21st position.
Adding to the challenges of contesting the Bathurst 1000 is a new rule that requires each entry to change brake discs during the race.
The rule has seen several teams go to extraordinary lengths to engineer ways to perfect the practice at speed.
MSR team owner Matt Stone admits pit stops and the brake disc change could be a crucial factor in this year's race and one that requires plenty of focus.
"One factor that we are putting a lot work into is our pit stops, not so much actual the stops themselves but the ins and outs around it," Stone told Speedcafe.com.
"We feel it is one of our weaknesses at the moment and there are a lot of pit stops at Bathurst so it can really make or break your day.
"There is the disc change we have got to do and that is my biggest concern but as far as pace and how the team is going we are looking forward to it.
"It is just one of those unknowns and in the high pressure pit stop situation it is a very critical part of the car. There is a lot involved with it and nobody has done it before.
"It is something we really don't want to get wrong. It is new for everyone and there is obviously risk involved in that."
After a difficult campaign to date that has seen the outfit ditch its Ford Falcon FGX for a Holden VF Commodore mid-season, Stone believes Sandown provided signs that the team is moving forward.
"We had a little bit of a hiccup in a couple of the pit stops (at Sandown) but we felt that we were moving in the right direction with our pace," Stone added.
"We felt as a team that everything was working better; we were more productive and from a performance point of view we were starting to make progress.
"With the event being Bryce's first as a co-driver and Todd having not done the race before, I think as our first enduro we were very happy.
"I think for Bryce he showed great improvement and having the time in the car with Todd just helped with the feedback across the whole team; I felt it was a very good combination."
The squad will head to Mount Panorama next week for the Supercheap Auto Bathurst 1000 from October 4-7.