Super Trucks ban 'devastating' says Morris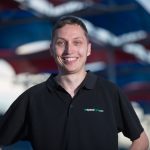 Stadium Super Trucks driver Paul Morris says the decision to remove the category from the Vodafone Gold Coast 600 will prove a devastating commercial blow to his operation.
Speedcafe.com revealed today that the popular support act will no longer feature at the Surfers Paradise event after the Confederation of Australian Motor Sport (CAMS) elected to suspend the category on safety grounds.
Gold Coast-based Morris was set to race in a team, owned by Bill Hynes, featuring five trucks at the event which was set to be the series' penultimate round from October 19-21.
Founded by former NASCAR and IndyCar driver Robby Gordon, the wild jumping trucks have featured at the Gold Coast 600 in 2015 and 2016 and were due to return this year after an absence in 2017.
The former Supercars driver admitted he was surprised by the decision which he feels will deliver a significant blow to his team.
Stadium Super Trucks last raced in Australia in May when they featured on the support bill at Supercars' Perth SuperSprint.
"Commercially for us it is pretty devastating," Morris told Speedcafe.com.
"Our team has got five trucks and we always have really good support on the Gold Coast, so it puts a bit of a dent in the program.
"I am little bit surprised. I don't know the inner workings of it all but normally if there is an issue there is an approach to solve it.
"It is a home event, two of the trucks are sponsored by one of the acts for the after race concert, so I'm left up the creek without a paddle a bit.
"I have got some commercial arrangements there that I will still need to honour somehow. I've got a fair bit wrapped around the event so it leaves a pretty big hole."
Speedcafe.com has been informed that CAMS has not completely shut the door on Stadium Super Trucks with talks ongoing with category manager, but at this point the series will not be racing in Australia next month.