DJRTP fearing uphill struggle to match T8 at Bathurst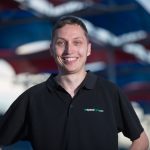 Shell V-Power Racing expects a helping of good fortune will be required to prevent Triple Eight from taking out the Supercheap Auto Bathurst 1000 following their Sandown 500 domination.
The Ford squad was unable to challenge the Triple Eight Holden Commodores at last weekend's Rabble.Club Sandown 500 with Scott McLaughlin finishing best of the rest in fourth, some 25 seconds behind race winner Jamie Whincup, who led home a dominant one-two-three for the Brisbane squad.
Straight-line speed emerged as the key area where the Shell Ford Falcons were struggling, having to resort to a low downforce set-up which proved to be detrimental for tyre wear, to compete with the ZB Commodores.
McLaughlin described the Holdens' pace as 'unbelievable' and suggested that an absence of Safety Cars would have seen the winner lap the entire field.
He also revealing his concerns when the championship heads to the long high-speed straights at Mount Panorama for The Great Race next month, which are shared by DJR Team Penske managing director Ryan Story.
"I think it is going to be challenging (at Bathurst) for us given what we have just seen at Sandown," Story told Speedcafe.com.
"For sure it was all about damage limitation there and that was our expectation going into it.
"We know the strengths and the weaknesses of our package and that of the competitors and we were expecting to go there and for Triple Eight to be super strong.
"They have been strong there for many many years and certainly since the start of the Car of the Future era they should have won every race at Sandown since then. It was an interesting one for us and fourth was as good as we could do.
"There is no secret but at Bathurst you do need a bit of luck on your side as well as car speed.
"It's no secret that we have the lap record around that place and we are going to wring everything we can out of that thing.
"It is going to be tough.
"There are going to be tracks like Sandown, Bathurst and Pukekohe where we will see the strengths of the ZB come to the fore but there are other tracks where we will be super competitive.
"That is what we are going to have to do and we identified at the start of the year that this would be by no means plain sailing and we would have a challenge on our hands right through to the end.
"Basically at Sandown we spent time exploring what we could do with a low downforce set-up and what we can do with that and what we can learn from it.
"It was the first time we have really embarked on that direction with Falcon and we have learned from it and it gives us really good direction leading into the big one."
McLaughlin will head into the Great Race with a 55 point deficit to championship leader Shane van Gisbergen.
The squad will have three weeks to prepare for the Supercheap Auto Bathurst 1000 held from October 4-7.