23Red Racing highlights drought cause with livery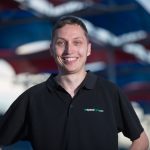 Luis Leeds will sport a special livery on his Porsche Michelin GT3 Cup Challenge car to raise awareness of drought stricken Australian farmers.
23Red Racing has backed the Buy a Bale initiative which aims to raise funds to purchase hay to feed livestock, and vital supplies for families in affected regions.
The Melbourne squad run by Phil Munday has been particularly passionate about the campaign having already given up branding on its Supercar driven by Will Davison at the recent OTR Super Sprint.
Munday also helped organise a delivering of a 100 tonnes of hay to farmers in Dubbo prior to the Rabble.Club Sandown 500 with the use of trucks from his Supercars team, Walkinshaw Andretti United and Preston Hire Racing.
Now the squad has gone a step further by creating a special livery for its Porsche GT3 Cup Challenge car which will be campaign by Leeds in the final round of the series at Sydney Motorsport Park this weekend.
"A lot of people think that the drought is over and with this livery it just shows that it is not over," Munday told Speedcafe.com.
"I'm very passionate about the farmers as my wife is farmer's daughter so I know how tough the situation can be.
"I thought this would be good for the final round; hopefully keep the cause in the forefront of everyone's mind."
Leeds is currently eighth in the series standings heading in this weekend's finale.