Edwards: Triple Eight were in a different league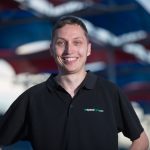 Tickford Racing boss Tim Edwards described Triple Eight's pace at Sandown as 'in a different league' following their domination of the opening round of the Pirtek Enduro Cup.
Ford teams in particular appeared to struggle for straight-line speed with both Tickford and Shell V-Power Racing forced to run low downforce set-ups that compromised tyre wear to combat the speed of the Holden ZB Commodore.
Sandown belonged to Ford last year as the Falcon filled the podium with Tickford taking the spoils through Cameron Waters and Richie Stanaway while Chaz Mostert and Steve Owen following home the DJR Team Penske duo of Scott McLaughlin and Alexandre Premat in third.
This year the best Tickford's four cars could muster was a 10th for Mostert and new partner James Moffat, who were almost a minute behind the race winners as Triple Eight swept the podium.
Edwards says his squad were forced into aggressive set-ups which ultimately hampered speed across its stints in the 161 lap endurance season curtain raiser.
"They (Triple Eight) were in a completely different league to the rest of the field but we can't shy away from the fact that we didn't finish fourth, so we weren't the best of the rest so we have got to do a better job," Edwards told Speedcafe.com.
"We struggled with straight-line speed all weekend and as a consequence we went really aggressive with a very low wing and that causes you other issues where you wear tyres out prematurely.
"We had very good speed for the first 10 laps of a stint and then we struggled after that as we burned off the rear tyre. We weren't fast enough all weekend
"Am I surprised? We expected this to be one of the tougher rounds; we know the ZB is a very good car and we knew it was going to be a tough weekend because there are two long straights here and it is all about straight-line speed at this circuit.
"We are working as hard as we can to improve everything that sits under the external surfaces but the external surfaces are the external surfaces so if we are struggling in that area you are stuck with it."
Despite starting from seventh, Mostert admitted it was a challenging race that highlighted the Falcon's weaknesses.
"It was a tough day," said Mostert.
"This race really showed our deficiency in some areas.
"Even though it's not the result we want, at least it's a 500-kilometre race that gives us a clear indication of things we need to work on.
"We've got to look forward in these tough times; there are some positives in our-one lap speed, but we just really struggled for constant race pace, and that was probably the thing that cost us the most."
Mark Winterbottom and Dean Canto had started the race in fifth but tyre wear appeared to be an issue as they came home in 17th spot.
"The car did the same thing all weekend, to be honest, and the race was the worst it was," said Winterbottom.
"I don't know what it is yet, but the car dropped off a cliff.
"After about 20 laps we were reasonably competitive, but then we dropped off a cliff and we really struggled, and the next stint we really struggled, I couldn't turn into the corner without losing the rear, and once it stopped sliding it would understeer.
"Three years ago we won, today I got lapped, tough day."
Last year's winner Cameron Waters, who finished 13th alongside David Russell, added: "We tried to tune it up across the race, P13 is okay on the whole, but we just struggled with tyre life quite a lot. We've got a few deficits to work on, but you race with the car you've got, and today we didn't have the car we needed."
The squad will now prepare for the Supercheap Auto Bathurst 1000 from October 4-7.