Dane rubbishes T8 advantage talk after Sandown sweep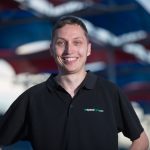 Triple Eight boss Roland Dane has rubbished suggestions that his ZB Commodores have an advantage over the field after the cars dominated the Rabble.Club Sandown 500.
The Brisbane operation produced one of its most convincing displays as Jamie Whincup and Paul Dumbrell led all bar two laps on their way to an emphatic victory.
Shane van Gisbergen and co-driver Earl Bamber finished second, while the third Triple Eight entry of Craig Lowndes and Steven Richards completed an impressive one-two-three.
Triple Eight's ZB Commodores showcased rapid pace at Sandown with Whincup and Dumbrell taking the flag 25 seconds ahead of title contender Scott McLaughlin (Shell V-Power Racing), who emerged as the best of the rest in fourth.
Ford teams Shell V-Power Racing and Tickford Racing had to resort to trimming out the rear wings of their cars to combat a straight-line speed deficit which then compromised the tyre wear on the Falcons.
Questions have been levelled at the new ZB Commodore regarding parity earlier this season when it was found the cars were running composite panels that saw Ford and Nissan teams re-homologate bodywork for their cars.
This latest performance has brought the topic back under the spotlight with McLaughlin describing Triple Eight's pace as 'unbelievable'.
However, Dane remains adamant that his team has no advantage over the field.
"We had good car speed and you will hear moaning about straight-line (speed, but) look at the figures and the vision. It is not about straight-line; the cars were very well set-up," Dane told Speedcafe.com.
"We have got the same toolbox as everyone else.
"When we have been beaten particularly in 2015 and last year, and this year when we have been consistently beaten, we have just said that we need to work harder and we don't blame anyone else.
"All I hear this time is other people saying we have some advantage. We haven't.
"We have got the same starting point as everyone else with these rules and the boys and girls have done a great job.
"Sometimes we will get beaten and we will get beaten again, and it will be up to us to do a better job, not to point at other people and say they have an unfair advantage. That is just nonsense."
Dane credited the victory, which has seen the team win seven of the last eight races, to the hard work completed by his operation after a slump in results mid-season.
"Definitely it is a big result. We showed with the new car that we seem to have got a grip with it in a few situations now. The team worked exceptionally well and we didn't make any mistakes," he added.
"It is good. I don't think anyone has had a one-two-three in an enduro before. It is special. At the end of the day it only came about because of hard work."
While Whincup won the race, team-mate van Gisbergen has now opened up a 55 point lead in the championship over McLaughlin.