Sport Australia to induct Moffat into Hall of Fame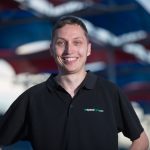 Australian touring car legend Allan Moffat is set to be inducted into the Sport Australia Hall of Fame.
The four-time Bathurst 1000 winner and Australian Touring Car champion will become only the fourth motorsport identity to be inducted.
Moffat, 78, will join the late three time Formula 1 world champion Sir Jack Brabham (inducted in 1985) and fellow touring car legend Peter Brock (1997) and 1980 F1 world champion Alan Jones also inducted in 1985.
The Canadian-born driver, who moved to Australia aged only 17, forged a highly successful career in touring cars, winning the ATCC title in 1973, 1976, 1977 and 1983, while he triumphed in The Great Race in 1970, 1971, 1973 and in 1977, which was the scene of the iconic one-two Ford finish.
Already a Supercars Hall of Famer, Moffat will be inducted into the Sport Australia Hall of Fame on October 11.
Sport Australia Hall of Fame Chairman John Bertrand said Moffat was a pioneer of touring car racing in Australia.
"Allan Moffat pioneered touring car racing with fellow Hall of Famer, Peter Brock," he said.
"Their legendary duels across Bathurst and Sandown captivated the country's imagination."
Supercars CEO Sean Seamer says the accolade is duly deserved given the mark Moffat has left on touring car racing.
"Allan is one of the true greats of Australian sport," said Seamer.
"This is a greatly-deserved accolade for a true gentleman and one of the finest race car drivers the country has ever seen.
"Allan was one of the most dominant drivers of his time in a golden era still considered one of the best in Australian sport and motorsport history.
"It is also fitting news of his induction breaks at Sandown and on the eve of Bathurst."
Moffat was inducted into the Australian Motor Sport Hall of Fame in 2016.