McLaughlin concerned by straight-line speed deficit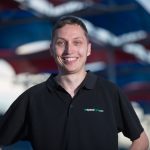 Scott McLaughlin believes his Shell V-Power Racing team will have to work harder to find answers to a lack of straight-line speed ahead of Sunday's Rabble.Club Sandown 500.
The title contender has so far struggled for outright pace, handing the car to co-driver Alexandre Premat in 14th spot on the grid for Armor All Race to the Grid 1, after ending the earlier qualifying session 0.6s slower than Jamie Whincup and Paul Dumbrell's Red Bull Holden.
While Premat took advantage of changeable weather to finish third in the opening heat, McLaughlin found himself short of top end speed in the second race.
After passing the slow starting Andre Heimgartner, the Kiwi then trailed David Reynolds' Erebus Holden before a charging Whincup swept by the Ford to demote McLaughlin to third, where he stayed for the remainder of the race.
McLaughlin admitted that his team has been trying to combat the deficit to the new Holden ZB Commodore all day.
"We've been trying bits and pieces all weekend to sort of be at that pace, but we'll keep working on it. I think there's lot smarter people out there that can sort it all out," said McLaughlin.
"I'm probably losing two car lengths at the moment and it's hard to fight, so I think… I was able to hold Fabs (team-mate Fabian Coulthard) there, obviously same car, but we just have to work harder and maybe have to trim it (the aerodynamics) out a little bit and see if we can hold our ground.
"I'm losing time on both the cars that I raced today, in (Car #)9 and (Car #)1. We've tried various ways to try and combat that, but we've just got to try a bit harder."
Co-driver Premat went as far as to say that the Holdens were as much as 2km/h faster than his Ford but is wary that compromising downforce could be a risk.
"It looks like for sure, when you look on TV or even on the back straight, top speed, they are like two more kays faster," said Premat.
"We have to work a bit harder on the car to replace downforce on the car, to try and get their speed.
"Unfortunately we remove some downforce, we are a little bit harder (to drive) in the corners compared to them.
"They have a little bit more downforce and better top speed.
"We'll see tomorrow. Ludo (Lacroix, engineer), all the boys from DJR Team Penske, they are working on it hard, but it's going to be hard, for sure."
McLaughlin and Premat will start Sunday's 161 lap Sandown 500 from third on the grid, while championship leader Shane van Gisbergen and co-driver Earl Bamber will be back in 11th spot.
Earlier today Shell V-Power Racing was issued a $30,000 fine for a technical rule breach dating back to the OTR SuperSprint last month.