DJRTP cops $30000 fine for Bend technical breach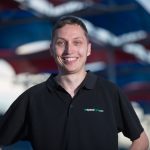 DJR Team Penske has copped a $30,000 fine for breaching technical rules at the OTR Super Sprint.
The squad was found to have mistakenly fitted an incorrect drop gear in Scott McLaughlin's Ford Falcon during the Sunday qualifying session at The Bend Motorsport Park last month.
Upon realising its error the correct drop gear was fitted before the race in South Australia.
The matter, which was only discovered by Supercars post event, has resulted in an inquiry at the Rabble.Club Sandown 500 (the following event, which is standard practice), with the championship only now confirming the penalty after it was thought the team had escaped penalty.
Half of the $30,000 fine is suspended until the end of the year.
McLaughlin has also been excluded from the Race 23 qualifying session. The disqualification will have no bearing on the results.
"We accept the penalty issued by the stewards for a technical infringement with car #17 during qualifying at the Bend, Sunday 26 August 2018," read a statement from the team posted on its Facebook page.
"The infringement was for use of an incorrect drop gear ratio in a replacement gearbox installed Saturday evening, which was corrected immediately once identified, before that day's race.
"This was a mistake made in error and, as acknowledged by Supercars and the stewards, in no way advantaged car #17 over its competitors."
Meanwhile, Tekno Autosports has been issued with a $5,000 fine with $2,000 suspended until the end of the year for a loose right front wheel in Practice 3 at Sandown.
"Following the session the DRD conducted an investigation into an alleged breach by Tekno Autosports
of Rule A4.4 (Competitor responsible for all safety aspects of the Team including that Competitor's car
at all times) after the right front wheel dislodged from Car #19 in the vicinity of Turn 12-13. After an
admission to the breach, the Stewards imposed a fine of $5,000 on Tekno Autosports of which $2,000 is
suspended until 31 December 2018," read a report from the stewards.