DJRTP escapes punishment for rules breach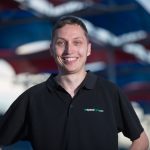 DJR Team Penske has escaped penalty following a breach of technical rules on Scott McLaughlin's car during the OTR SuperSprint.
Supercars has confirmed to Speedcafe.com that the incident occurred during the Sunday qualifying session at The Bend Motorsport Park where the team fitted the incorrect drop gear to McLaughlin's Falcon.
The entire field is required to run a uniform drop gear ratio stipulated by Supercars which varies from circuit to circuit.
Supercars' technical department found the infringement during a routine check post session with the error going unpenalised.
Speedcafe.com understands that a ratio for Winton was mistakenly fitted for Sunday's qualifying session where McLaughlin snared 10th on the grid.
The correct ratio was put in the car for the race after the team admitted the error.
In a statement issued to Speedcafe.com Supercars asserted that no advantage was gained by using the wrong gear ratio.
"Upon a routine post-race investigation by the Supercars Technical Department, it was found Car 17 had been fitted with an ineligible drop gear ratio during Sunday qualifying at the OTR SuperSprint," read a statement issued to Speedcafe.com.
"There was no competitive advantage and the team admitted the error."
Speedcafe.com understands rival teams in the paddock are upset that the infringement escaped penalty for the breach of technical rules, with one team owner suggesting that the car should have been relegated to the back of the grid for Sunday's race.