WAU reveals 2008 throwback for Sandown 500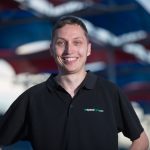 Mobil 1 Boost Mobile Racing has reproduced a classic livery from 2008 for its cars at this weekend's Rabble.Club Sandown 500 retro round.
The ZB Commodores of Scott Pye/Warren Luff and James Courtney/Jack Perkins will return to the day glow red and white colours that Mark Skaife and Garth Tander raced in the period for the Walkinshaw team.
During that season Skaife, in his final full-time season, and Tander teamed up to win the 500 kilometre enduro which was held at Phillip Island.
The squad also swept the Hamilton street races courtesy of Tander earlier in the year.
"There's no denying the power in our history. It's a livery and period which our fans are so passionate about, and we are delighted to bring that to life at Sandown," said co-team principal Bruce Stewart.
"We have a diverse fan base, both young and old, so we wanted to pay tribute to a livery that is recognisable with all age groups, and that was so well-loved across generations.
"The car looks outstanding, the PPG day-glow red will be sure to turn heads when it hits the track this weekend, and the adaptation between the VE Commodore and ZB Commodore has been excellent.
"It's also fitting to pay tribute to the contribution that Mark Skaife made to this team. He is not only a legend of this team, but the sport as a whole."
The original livery was designed by Peter Hughes who was called upon by the squad to recreate his artwork for this weekend.
"It was a nice surprise to get the call, inviting me back down to Clayton to develop the WAU 2018 retro round livery," said Hughes.
"I've had such a long and rewarding association with this team, so being re-united and catching up with so many familiar faces was fantastic.
"Walkinshaw Andretti United chose the 2008 livery as their base, and it was a blast re-imagining one of my old liveries a decade later, onto the ZB Commodore.
"(The) 2008 was a clean and simple layout, so it didn't take too much fettling to get it onto the new car's shape, and the colours and break up work well with the current day partners.
"We're all pretty happy with the end result, and I'm sure it will bring back many great memories when it rolls out at Sandown, not only for me, but for all long-time fans and members of the team."
The cars will take to the track for the Pirtek Enduro Cup opener which begins on Friday.