New backers for Percat BJR Holden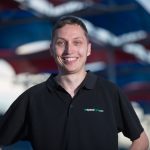 Nick Percat will run under the colours of Snapes Project Logistics for this weekend's Rabble.Club Sandown 500.
The South Australian's #8 Brad Jones Racing Holden will sport as new sleek blue and black livery for the Pirtek Enduro Cup opener as the team continues its rolling sponsorship model on the entry.
All three BJR Commodores will sport new liveries this weekend with retro paint jobs featured on Tim Slade and Tim Blanchard's cars.
Slade will run a tribute to Bob Jane's iconic Holden GTS350 HQ Monaro, while Blanchard's retro look will be revealed tonight.
Percat heads into Sandown, where he will be partnered by Macauley Jones, in form after finishing fifth last time out at The Bend Motorsport Park.
The pair are looking to secure a maiden Sandown podium for the team.
"Our design team and PPG paint booth has been working overtime in the lead up to Sandown as all three cars have rolled out with something special for this event," said Percat.
"It's great to have the support of Snapes Project Logistics on board for the event, even with the mix of retro cars on track, this will certainly stand out amongst them.
"Macauley Jones is my co-driver again for this year's Pirtek Endurance Cup and there is no doubt we're excited for the events ahead.
"Macauley has had plenty of time behind the wheel in the last couple of months; including wild card entries at Darwin and Tailem Bend, his Super2 rounds plus our two test days at Winton.
"I know Macauley is as comfortable in the car as ever and that really helps to build confidence for any co-driver. Looking at his recent results, Macauley has been fast, even out-qualifying some of the top drivers at Tailem Bend.
"I believe we can be a really strong combination this year and it would be a fantastic result to get BJR their first Sandown podium on Sunday."
The Sandown 500 begins on Friday with opening practice scheduled for 1040 AEST.