Blanchard honours father with special retro livery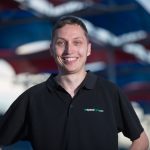 Tim Blanchard will pay tribute to his father's racing career with a striking retro livery on his Brad Jones Racing Holden at the Rabble.Club Sandown 500.
The #21 CoolDrive car will run in the colours raced by John Blanchard in the 1993 Australian Touring Car Championship when he drove a BMW M3 for the Logamo Racing Team, formed by Tony Longhurst, the late Frank Gardner and Terry Morris.
That year Blanchard campaigned a gold, white and red livery of then primary sponsor cigarette giant Benson & Hedges in what was the last year Supercars ran classes for five-litre V8s and two-litre touring cars.
His best finish from the eight championship rounds was a ninth at Winton while he finished Bathurst as the best BMW runner in 11th alongside British Touring Car Championship driver Jeff Allam.
THE FINAL RACE OF THE 2023 REPCO SUPERCARS CHAMPIONSHIP ON ONE OF THE WORLD'S BEST STREET CIRCUITS. GO ALL IN AT THE VAILO ADELAIDE 500, CLICK HERE TO BUY TICKETS
The modern take on the colour scheme has been successfully replicated to incorporate Tim Blanchard's title sponsor CoolDrive.
"The M3s were awesome cars. It was the last year of them racing before they introduced the first edition of the Supercar," said John Blanchard.
"The BMWs were hit with a lot of weight penalties that year, so I don't believe they were able to show their full potential and competitiveness. They were a fantastic car, with a strong engine and had quite the fan following.
"It brings back a lot of memories for me and I'm really proud to see Tim honouring that.
"I had no idea he was doing it; then I received the mockup and was completely shocked, it was one of those wow moments.
"I showed the design to Tony Longhurst and he agreed, it's awesome. I can't wait to see it on track this weekend. I think a lot of the older guys will get a real kick out of this one."
Tim Blanchard admits the livery is a special way to recognise his father's racing efforts.
The 31-year-old, who will share his ZB Commodore this weekend with co-driver Dale Wood, heads into Sandown off the back of a 15th at The Bend Motorsport Park.
"It's pretty special to honour my Dad's time in Supercars," said Tim Blanchard.
"The livery is going to resonate with a lot of the old school Supercar fans which is what we believe the retro is all about. We've gone old school and kept it personal which makes this a different story from the rest.
"I was quite young when Dad raced the BMW but it brings back a lot of childhood memories for me trackside. I've got photos of me helping clean over the car on race weekends, and I spent a lot of time at Norwell. Dad would be in a debrief and I'd be out in the go-kart.
"It's also where I built by relationship with the Morris family. In 2010 Paul sponsored me in the Dunlop Series, driving the Sirromet Supercar plus he gave me my first endurance drive alongside Greg Murphy. He helped me a lot to get my break in Supercars, it all started from there."
"I'm excited to show off the Team CoolDrive Commodore in the retro colours this weekend, the team have done a great job bringing this to life with PPG and it'll stand out on track, hopefully for all the right reasons this year."
The new livery will make its debut on Friday with opening practice scheduled for 1040 AEST.