GRM delves into owner's racing career for retro looks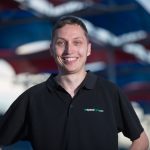 Garry Rogers Motorsport has recreated two liveries from Garry Rogers' own racing career for its drivers to run at this weekend's Rabble.Club Sandown 500 retro round.
The Melbourne squad has delved into the team owner's past to re-imagine an ex-Bob Jane Holden A9X Torana raced by Rogers from 1978-1979 and a Holden Commodore VH that finished 12th at the 1983 Bathurst 1000 for its pair of ZB Commodores.
Garth Tander and co-driver Chris Pither will pilot an eye catching red, orange and white look on its #33 ZB Commodore that was carried by the A9X Torana which Rogers drove alongside five-time Australian Touring Car Champion Ian 'Pete' Geoghegan in the 1978 Bathurst 1000, resulting in a retirement after 29 laps.
While the car didn't provide memorable results, Rogers has provided an eventful tale that led to its purchase.
"It's quite interesting how this car came about. I had built another A9X Torana during the year and was planning on entering it for the 1978 Bathurst 1000," Rogers recounts.
"Earlier in the season I was racing my Torana Sports Sedan and a car salesman working for me at the time (John Andrew) drove up to Amaroo Park after work on the Saturday to watch me.
"When arriving at the track on the Sunday morning he had a disagreement with a gate attendant and he knocked the attendant out!
"When I put my entry in for Bathurst, Ivan Stibbard the manager of the ARDC (Australian Racing Drivers Club) rejected my entry saying that my nominated co-driver Darryl Wilcox did not have enough experience.
"I was quite friendly with the girls in the office of the ARDC and they told me otherwise, and that my entry had been rejected because of John Andrew's behaviour at Amaroo earlier in the year.
"I was determined to make the start line at Bathurst as I had told my sponsor and my friends that I was going to be racing in "The Great Race".
"I came up with the idea that if I bought somebody else's entry and put a driver name change in as the event got closer that I could avoid Stibbard.
"I spoke with Bob Jane and came to an agreement to purchase his entry and I raced alongside Geoghegan. Things did not go as I had hoped with engine failures in practice, qualifying and the race.
"I purchased the car off Bob and in 1979 I had a big crash at Amaroo Park and it was written off.
"As much as the Bob Jane A9X did not provide any great memories with regards to results, it does remind me of the persistency and never give up attitude that is required in motorsport and more particularly, life."
The sister #34 entry for James Golding and Richard Muscat mirrors the distinctive black and white livery raced by the Soundwaves Discos VH Commodore Rogers drove with British businessman Clive Benson-Brown in 1983.
Rogers and Benson-Brown overcame mechanical issues to bring the car home 12th having qualified seventh on the grid.
"This car was the very first so-called new race car that I raced. I didn't have the money to build it, but I did have the people required and I found the guy with the money," said Rogers.
"Clive Benson-Brown was an English aristocratic type who I met through Peter Janson. Clive lived in the fast lane with his disco businesses and always believed he could drive. I helped him along with that belief.
"We raced together in 1981 and unfortunately that car (VC Commodore) was destroyed in the crash that stopped the race. By 1983 we had regrouped and Bruce Garrett who looked after my sports sedan and helped in the car yard built the VH Soundwave Discos race car.
"He meticulously built the car using many of the parts from the damaged 1981 Commodore.
"In 1983 I qualified the car seventh at Bathurst and after experiencing some mechanical issues throughout the race, we finished 12th."
The GRM retro liveries will make their track debut in opening practice for the Sandown 500 on Friday at 1040 AEST.