BJR channels Bob Jane Monaro for Slade livery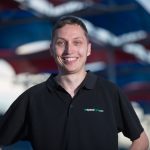 Brad Jones Racing has paid tribute to four-time Australian Touring Car Champion Bob Jane with its retro livery for Tim Slade and Ash Walsh at the Rabble.Club Sandown 500.
The Albury squad has managed to recreate the iconic orange livery that adorned the four-time Armstrong 500 winner's Holden GTS350 HQ Monaro that raced in Sports Sedans during the mid 1970s.
Jane has an emotional attachment to the Jones family being godfather to both team co-owners Brad and Kim, with the latter going onto work for Jane's race team as a mechanic.
Kim Jones worked on the Monaro which was behind the decision to pay tribute to the car and driver at Sandown.
"We chose to replicate the Monaro because Kim worked on that car back in the day," said Brad Jones.
"It was a stellar GM product and it will really resonate with the Holden fans.
"It's been a busy week for our panel and paint team preparing the retro car in its new colours, and as always they have done a fantastic job to bring this car to life in PPG and I believe it will really shine on track."
Kim added: "Working for Bob was my first real experience in a professional race team. I remember riding my pushbike from Tullamarine to Brunswick every day because I didn't have my licence.
"It was a very steep learning curve, one that saw me have a big improvement in my skill sets. At that point in motorsport in Australia, Bob Jane was one of the few fully professional race-teams.
"He had access to all the best equipment and technology at the time. It was a life changing experience for me."
While too young to remember the Monaro in period, Slade hopes the special livery will resonate with fans as Supercars celebrates the past at the Sandown 500.
"I believe the team have nailed it again this year with the Bob Jane retro livery," said Slade.
"It's a simple design, and the history behind it is what really connects with the fans. The Jones brothers have many great stories to tell, and this is another one of them."
The squad plans to unveil two more liveries, including a special retro look tomorrow, ahead of this weekend's Sandown 500.